Countdown to V-Day begins with a 360 view during final prep for key parade in Moscow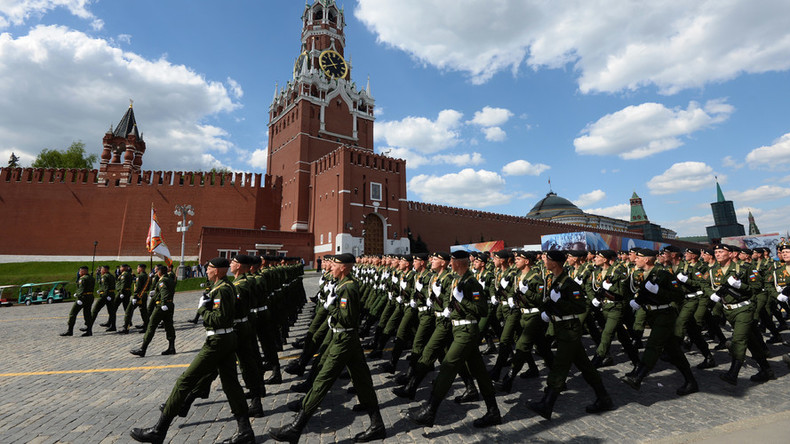 Check out RT's latest 360 footage from the dress rehearsal for Moscow's May 9 parade, with state-of-the-art military equipment and hundreds of troops marching across Red Square ahead of the 71st anniversary of victory over Nazi Germany in World War II.
The rehearsal, captured by RT in the cutting-edge 360-degree-view, took place Saturday morning and featured the BTR-80 and the modernized BTR-82A armored vehicles; third-generation T-90A tanks, one of the newest in the Russian army; tactical Iskander-M ballistic missile systems and Topol-M intercontinental ballistic missile systems, just to name a few. On Monday, Moscow will also traditionally show off its historical vintage battle tanks, like the legendary T-34 tanks, once hailed as "the finest tank in the world" by German tank general von Kleist back in 1941.
The Russian Defense Ministry made waves in the run-up to the Victory Day parade last year when it finally fully unveiled the new Armata tank in a series of photographs published on its website.
Victory Day is one of the iconic and quintessential holidays in Russia for one simple reason: it marks the final capitulation of Nazi Germany to the Soviet Union in the Second World War on May 9, 1945.
READ MORE: Armata unveiled: First ever full high-def photos of Russia's newest hardware
Military parades have traditionally been held on Red Square on May 9 since the 20th anniversary of the victory in 1965. The tradition was temporarily dropped after the collapse of the USSR to be revived in 1995.