Turkey to lift visa requirements for EU, including Cyprus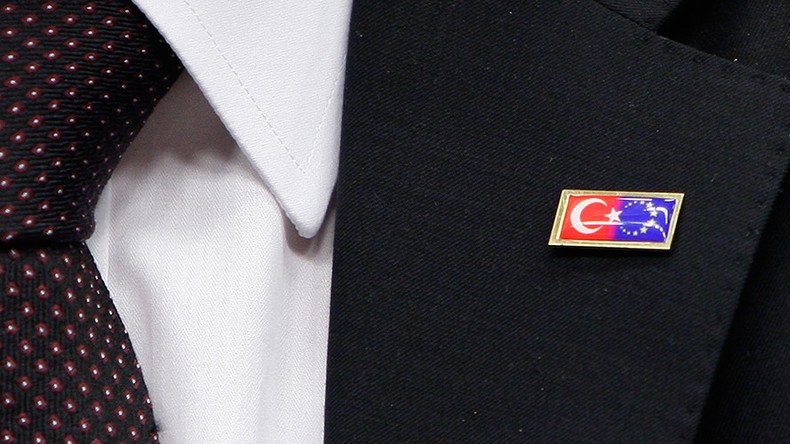 Turkey has decided to lift visa requirements for all EU citizens, including Greek Cypriots. The move comes following a report saying that the European Commission will propose the easing of visa requirements for Turkey on Wednesday.
Visa-free travel for 28 EU member states was adopted by the Turkish cabinet late on Monday, a decision published in the country's Official Gazette said.
Although visa requirement will be lifted for all Greeks in Cyprus, a Turkish official told Reuters that Ankara doesn't recognize Cyprus.
"This doesn't mean the recognition of Cyprus. If the EU abolishes visas for Turkish citizens, then we will also abolish visas for the remaining EU countries," the official said on condition of anonymity. "Right now, Greek Cypriots can already travel to Turkey, but we are issuing their visa on a separate paper. With this new arrangement they won't need a visa."
Earlier Reuters reported, quoting sources close to the Brussels-Ankara negotiations, that the European Commission will propose easing visa requirements for Turkey on Wednesday. The reports come after Turkey threatened to back out of the landmark migrant deal.
Reuters cited a diplomatic source as saying that Turkey's visa-free demands will be met when the European Union's top executive body announces its proposal to ease visa requirements for Turkish citizens during a meeting on Wednesday. Another source said that the committee's preparatory meeting already expressed support for the proposal on Monday.
The European Commission is scheduled to report on May 4 whether Turkey has met the benchmarks for visa-free travel.
An EU official speaking to Reuters on Monday claimed that Turkey has fulfilled as many as 65 requirements, meaning it doubled the number of satisfied conditions in less than two weeks. As of the end of April, Turkey had reportedly met less than half of the conditions required.
In April, Ankara threatened to back out of the migration agreement with the EU, unless travel rules were eased for Turkish citizens when entering the 28-nation union.
According to the deal, Ankara has promised to accept repatriated refugees from Greece with no EU entry permits, in exchange for sending the same number of vetted Syrian refugees. In return, Turkey would be given up to €6 billion in European funding over the next half-decade.
Moreover, as a diplomatic reward, Turkey wants the EU to fast-track its application to be included in the visa-free Schengen zone travel as early as June. The EU has provisionally agreed to consider Turkey's bid, putting up a list of 72 conditions it must fulfill, including the use of sophisticated biometric passports and stricter border controls.
The migration deal between Ankara and the EU went into effect on March 21.
Even though the EU seems eager to keep the deal with Turkey, the agreement has been highly criticized by human rights groups, who question whether Turkey is a safe place for migrants to be returned to.
Moreover, the human rights concerns have increased after Amnesty International revealed that Turkey has returned thousands of Syrian refugees to the war-torn country since mid-January.
READ MORE: Kurdish crackdown: Is Turkey at war with its minority?
Earlier, rights groups said that Turkish border guards were subjecting people fleeing from Syria to summary executions. Ankara responded to the allegation with a denial.
German daily Die Welt published a report in April, which said that EU officials will institute a clause that will allow it to automatically suspend any visa-free agreement.
The Turkish government is also being accused of maltreatment of its Kurdish minority and a clampdown on the press and opposition.
Ankara has been pursuing a massive crackdown on predominantly Kurdish areas in the southeast of the country. It had introduced indefinite curfews in many Kurdish districts and waged gun, mortar and tank battles against PKK fighters.
Various reports show that destruction in the southeastern cities such as Cizre and Diyarbakir has been so great that people will not able to return home even once curfews are lifted.
Turkish authorities have recently taken a number of steps aimed at suppressing freedom of the press, including taking over Turkey's biggest newspaper, Zaman, and banning Russia's Sputnik news agency.
Reporters Without Borders recently ranked Turkey 151st out of the 180 countries on its 2016 World Press Freedom Index. Previously, the organization criticized the country for being "the biggest prison for journalists in the world."
You can share this story on social media: