Situation in Turkey's Kurdish SE 'resembles collective punishment' - Amnesty Intl to RT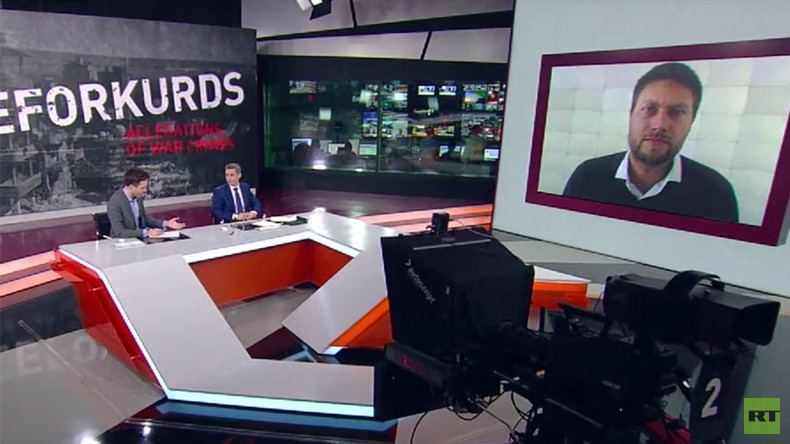 Since the Turkish Army began its operation against Kurdish militia in December, there has been an escalation of violence and "clear use of heavy weaponry" in residential areas, Andrew Gardner, a Turkey expert with Amnesty International, told RT.
Gardner said the curfew imposed in the areas inhabited by Kurds is an "unacceptable limitation of rights of the people" there, limiting their ability to access food and necessary services each day.
Earlier this month, RT launched a petition calling for a UNHRC-led investigation into claims of alleged mass killing of Kurdish civilians said to have been committed by the Turkish military during Ankara's crackdown on Kurds in the southeast.
RT's petition on Change.org: We urge UNHRC to investigate alleged mass killing of Kurds in Turkey
Amnesty International promised to examine the facts outlined in RT's petition calling for a probe into alleged mass killings of Kurdish civilians by the Turkish military after the NGO's "selective" approach was criticized by the Russian Foreign Ministry.
On Monday, Gardner commented to RT that, just like any other international observers, Amnesty International monitors were not allowed access to the curfew-affected areas.
"There is clear evidence that young children, elderly people, people who clearly were not fighters, not armed, they have been killed," Gardner said. "There are many questions to be answered here."
He noted that "unfortunately, we haven't seen that any of these allegations have been effectively investigated."
Gardner acknowledged that the situation in southeastern Turkey is deteriorating.
"It's a very big and complex issue," he said. The curfews are getting more extended, people are being displaced and forced to leave their homes.
No homes to go back to
Destruction in the cities like Cizre and Diyarbakir has reached such a level that people are not able to return once a curfew is lifted, Gardner said.
"The question is whether people will ever be ready to get back, how their homes will be rebuilt," he added.
Turkish authorities are facing a complex security situation to deal with, as the militants affiliated with the Kurdish Workers' Party (PKK) are "digging trenches, constructing barricades, attacking the police and state targets, using those areas [under curfew] as a base," Gardner acknowledged.
Yet Turkish authorities have been using force in a way "likely to result in injuries and deaths of the ordinary residents in the area – which is what we've seen."
'Turkish govt failed to investigate curfew abuses before'
Most of the residents have left those areas where heavy clashes between the Turkish Army and Kurdish militants continue, yet "it is very difficult to understand why the Turkish authorities have banned all outside organizations… from visiting these areas," Gardner said.
Alleged human rights violations in these areas dictate the need for "accurate information on the situation on the ground," he added.
Answering a question about Kurdish people allegedly being burnt to death while hiding from warfare in the basements, Gardner said that "it is not possible for the Amnesty International to come to a conclusion on all of these claims."
"Ultimately, it is up to the Turkish authorities themselves to launch effective and independent investigations into these series of allegations," Gardner said, pointing out that the experience with the previous curfews, like the one in Cizre last September, exposed that Ankara has done nothing to investigate any abuses "in any meaningful way."
There is obviously a need for human rights organizations in Turkey and internationally, like Amnesty International itself, the Council of Europe and the UN "to do whatever they can" to investigate those claims, Gardner concluded.
You can share this story on social media: