Israel's justice minister pushes for Israeli law to be applied in West Bank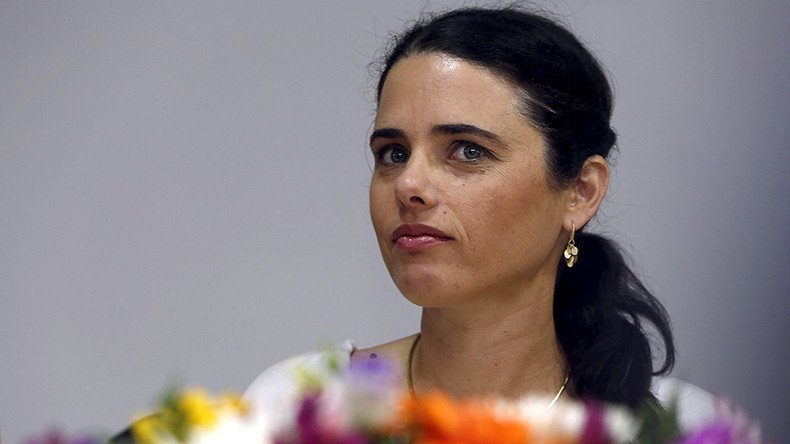 Israeli Justice Minister Ayelet Shaked has announced she will push for a controversial plan to extend Israeli civil law to West Bank settlements – a move that critics say would be tantamount to the annexation of territories beyond the Green Line.
READ MORE: 'Israeli settlements in West Bank destroy environment' – Abbas to UN
"Conditions need to be equal. There are basic laws that do not apply in Judea and Samaria [West Bank]. It is my goal to equalize conditions within one year, either by a GOC [General Officer Commanding] decree or through legislation," Shaked said at a conference in Jerusalem on Sunday, as quoted by Ynet News.
Shaked is seeking to revive the 'Norms Bill,' which was first introduced in 2014 and sought to provide Jewish settlers living in the occupied territories with the same legal rights as citizens living in Israel.
A special committee to work on the legislation alongside the Israeli Defense Ministry has already been established, Shaked noted.

The law, if passed, would widen the existing gap between Jewish settlers and the Palestinians who are all currently living under martial law.

"What we're trying to do is to make the process more orderly. At the end of the day, hundreds of thousands of people live there, and just like you can't fire a woman for being pregnant in Israel, that should also apply to women in Judea and Samaria," the minister said, according to The Times of Israel, adding that the legal status of the areas involved would not change and the process would run in compliance with international law.
READ MORE: Israeli justice minister turns to police after professor calls her 'neo-Nazi scum' on FB
Opposition members of the Knesset have scorned the proposal, saying that it undermines the possibility of future peace talks with the Palestinians.
"Minister Ayelet Shaked continues to fan the flames and pour oil on the fire that is Israel's relations with the world. This move will sabotage any chance of a political agreement," Meretz chairwoman Zehava Galon said, as quoted by The Times of Israel.
You can share this story on social media: