'Israeli settlements in West Bank destroy environment' – Abbas to UN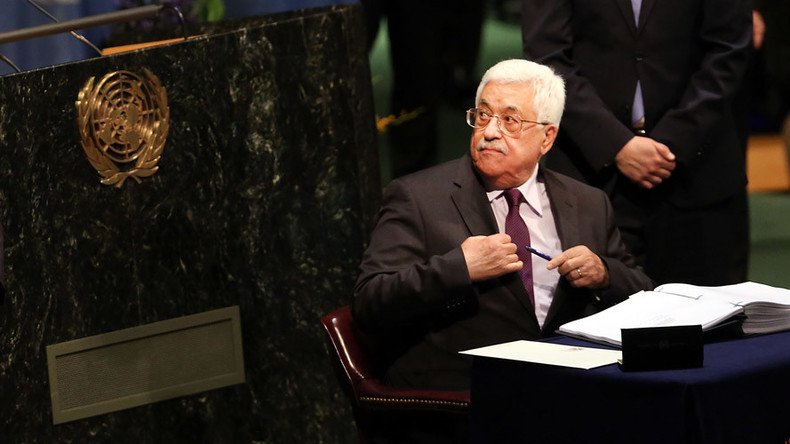 A war of words broke out between the Palestinian president and Israel's ambassador to the United Nations during a signing ceremony for the Paris climate accord, with Mahmoud Abbas alleging that the Israeli settlements are "destroying the environment in Palestine."
"The Israeli occupation is destroying the climate in Palestine, and the Israeli settlements are destroying the environment in Palestine," Abbas told the 193-nation assembly in New York.
The UN ceremony was held to mark the adoption of an agreement to combat global warming reached in Paris in December.
READ MORE: Israel's land seizure undermines Palestinian state prospects – EU
Abbas' presence at the signing ceremony had symbolic importance in the wake of Palestine's de facto recognition of statehood by the UN, which has considered Palestine a non-member observer state since 2012. Palestine's accession to the treaty could become a major headache for the US, which has a law forbidding funding for "any organization or group that does not have the internationally recognized attributes of statehood."
On Monday, a group of US senators sent a letter to Secretary of State John Kerry saying that Palestine's participation in the UN climate change secretariat and the Paris agreement would prohibit Washington from paying the $10 million annually into the UN's Framework Convention on Climate Change (UNFCCC) agency. Five years ago the US stopped funding UN's cultural agency UNESCO after it granted the Palestinians full membership.
"Please help us in putting an end to the occupation and to settlements," Abbas told the UN assembly on Friday, adding more fuel to the fire.
"It has become vital to change the international approach to dealing with the Palestinian cause," Abbas said, according to the Ma'an news agency.
Israeli Ambassador to the UN Danny Danon gave the Palestinian leader a tongue lashing.
"Instead of spreading hatred here at the UN, President Abbas should act to stop Palestinian terror," he said, after signing the treaty. "This climate summit is supposed to be a demonstration of global unity for the sake of the future of our planet," he added. "Unfortunately, President Abbas chose to exploit this international stage to mislead the international community."
The US-brokered Israeli-Palestinian peace talks have been in tatters since 2014. It's the second time the Israeli and the PA representatives have clashed at the UN in just one week.
You can share this story on social media: