Nuclear power plant stays online in Japan despite 1,000 quakes, public concern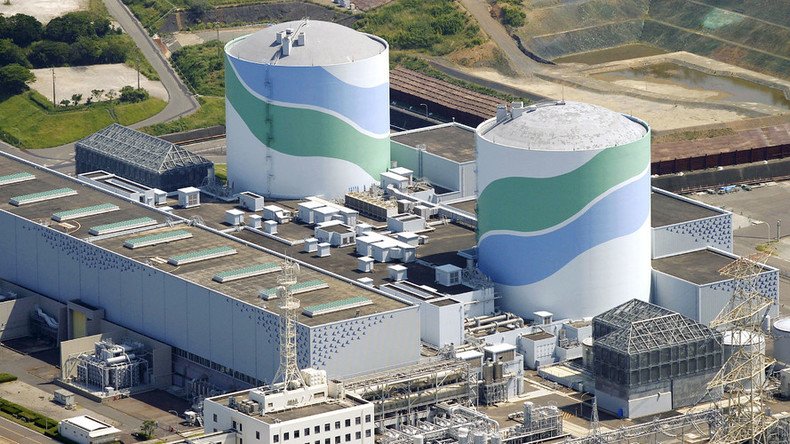 Despite thousands of seismic jolts occurring after a major earthquake recently rocked southern Japan and caused widespread public concern over safety in the region, authorities say there is no need to shut down the local nuclear plant.
As many as 1,006 aftershocks with a magnitude of one and above on the Japanese seven-point seismic scale occurred in the central regions of Kyushu island, Japan Meteorological Agency reported on Thursday, urging local residents to remain vigilant.
READ MORE: Over 40 killed, 90,000 evacuated as Japan hit by 2 powerful quakes & devastating landslides (PHOTOS)
Meanwhile Kyushu Electric Power Co. announced that the Sendai nuclear plant located in Kagoshima prefecture won't stop operating for a period of intensified seismic activity, neglecting nearly 5,000 phone calls and emails from concerned community members, Asahi Shimbun newspaper said.
"Nuclear power is energy defined as necessary in the nation's basic energy plan. We are operating [the Sendai plant] after confirming its safety and concluding that there is no problem with continuing to operate it," Michiaki Uryu, president of Electric Kyushu, told a news conference in Fukuoka on Thursday.
The decision not to take any precautionary measures has also been backed by Japan's Nuclear Regulation Authority.
"There are no compelling scientific grounds. We are not going to shut down the plant just because of calls from the public or politicians. What has been going on is within our expectations," NRA Chairman Shunichi Tanaka said after a meeting on the plant's operations on April 18.
The online petition against Kyushu Electric plans addressed to NRA chairman Shunichi Tanaka, Kagoshima's governor Yuichiro Ito and Prime Minister Shinzo Abe has already collected more than 14,000 signatures out of 10,000 needed.
"People in Kyushu are scared of another quake and are calling on the government to shut down Sendai," the text of the petition goes, citing volcanologists who call the utility "the most dangerous plant in Japan".
The Sendai Nuclear Power Plant, currently the only one working in the country, follows a tougher set of safety regulations introduced after the 2011 nuclear disaster at the Fukushima nuclear plant caused by a tsunami that was initially set off by an earthquake.
The Sendai plant is to undergo an emergency shutdown when horizontal ground acceleration at the basement floor of a reactor auxiliary building reaches 160 gal. On April 16, when the heaviest quake of 7.3-magnitude hit Kumamoto prefecture, the figure reached only 8.6 gal. No irregularities were recorded and the plant continued to operate normally, according to Kyushu Electric.
"There is no active geological fault beneath the Sendai plan. The plant is also designed to be quake-proof, so people do not need to worry about those things," Tanaka said on April 27.
Although Kyushu Electric officials admit that even if the plant goes offline, there will be enough to provide the region with energy during the summer season, they are still reluctant to put operations on halt.
Nuclear plants are cheaper to operate than thermal ones and since the Sendai restart the company has been saving more than 10 billion yen ($92.6 million) a month which may be the reason for such a decision.
The Fukushima Daiichi nuclear disaster, the largest one since the 1986 Chernobyl disaster, took place in March 2011 and resulted in three nuclear meltdowns and leak of radioactive materials. The accident prompted a nationwide shutdown of all nuclear power plants in Japan with Sendai being the first one to start working again in August 2015.
You can share this story on social media: