Over 40 killed, 90,000 evacuated as Japan hit by 2 powerful quakes & devastating landslides (PHOTOS)
Dozens of people are feared trapped under rubble in southern Japan, as the death toll from two earthquakes has climbed to 41. The search for survivors is in full swing, while 90,000 people have been evacuated from their homes to safer locations.
Over 200 aftershocks have hit Japan following the initial Thursday tremor of 6.5-magnitude, which hit the city of Kumamoto on the island of Kyushu. Officials have warned that the risk of further strong aftershocks will linger for about a week.
About 190 of the injured are in serious condition, the Japanese government said.
Only 24 hours later the same areas was struck by a violent 7.1-magnitude earthquake. The Japan Meteorological Agency briefly issued tsunami warnings for the areas that were still recovering from Thursday's devastating tremors.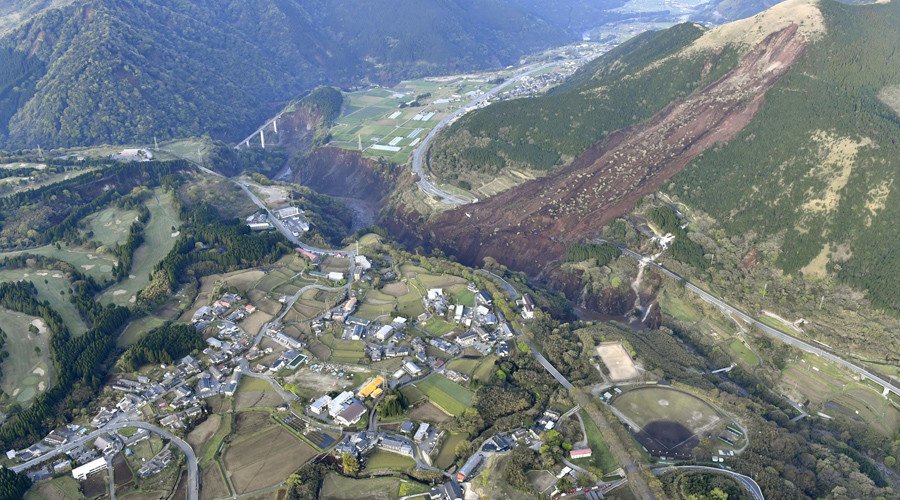 The overall death toll from the two quakes now stands at 41, with more than 1,000 people injured - 184 of them seriously.
About 90,000 people in Kumamoto Prefecture were evacuated to shelters, authorities say.
"We are aware of multiple locations where people have been buried alive," Chief Cabinet Secretary Yoshihide Suga said. "Police, firefighters and Self Defense Force personnel are doing all they can to rescue them."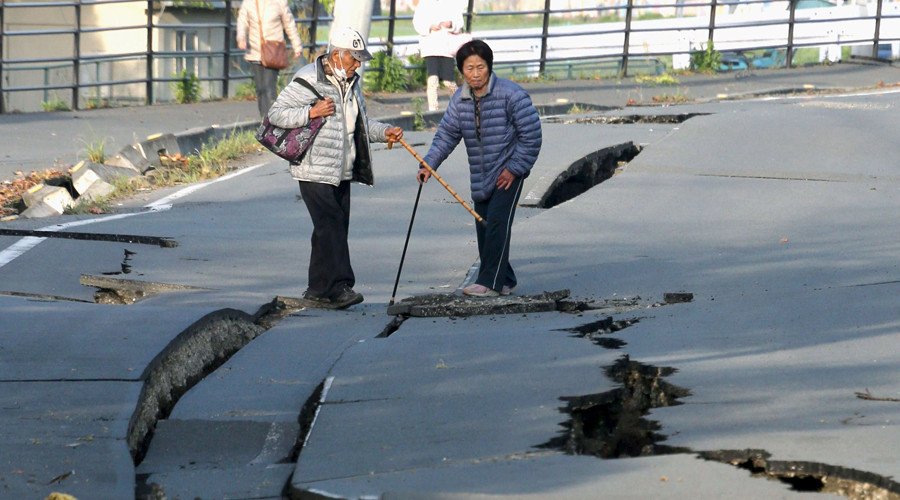 The death toll in the earthquakes may be climbing by the hour, Kumamoto Prefectural official Tomoyuki Tanaka said.
About 170,000 households were without electricity and 385,000 without water following the powerful quakes.
Yuichiro Yoshikado described his experience during Thursday's earthquake to AP. He was in the bathroom at the time.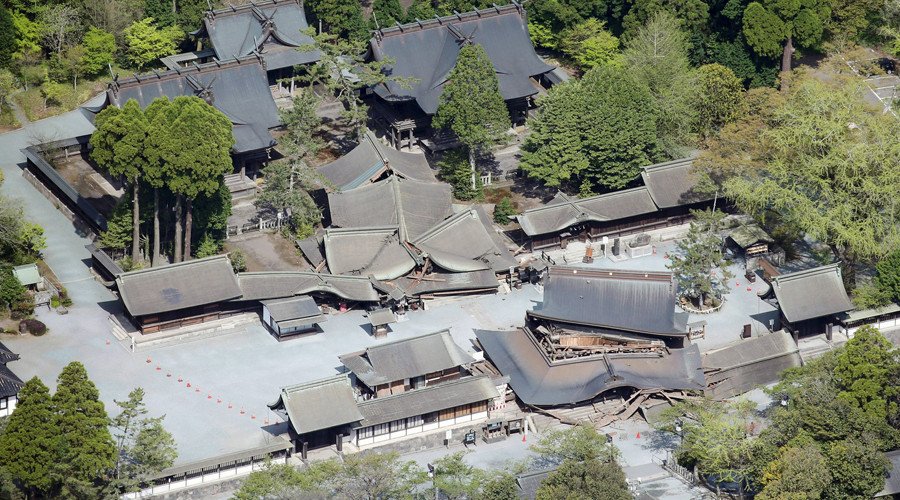 "I grabbed onto the sides of the bathtub, but the water in the tub, it was about 70 percent filled with water, was going like this," he said, waving his arms, "and all the water splashed out."
"I thought I was going to die and I couldn't bear it any longer," he added.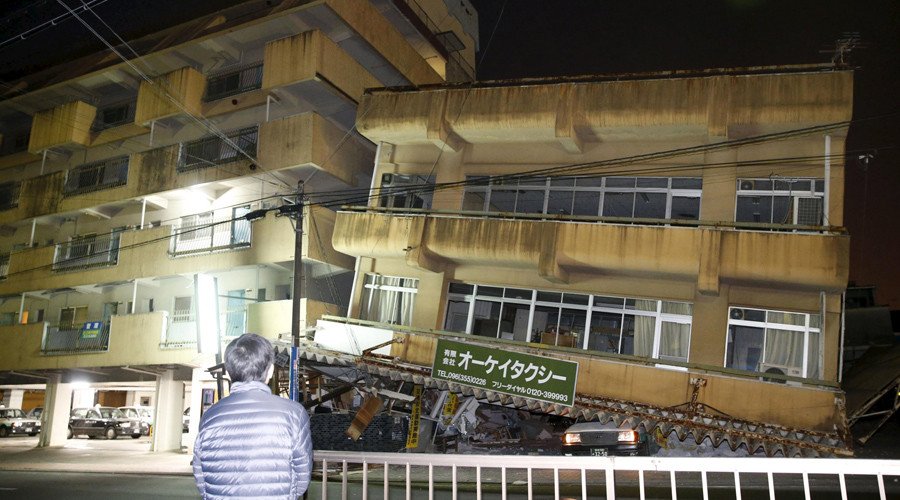 Among 29 casualties are two students from Tokai University.
"We offer our sincerest prayers for the two," said a University statement. "We're trying to confirm the safety of other students."
"I felt strong shaking at first, then I was thrown about like I was in a washing machine," a Tokai University student told local media, "All the lights went out and I heard a loud noise. A lot of gas is leaking and while there hasn't been a fire, that remains a concern."
The quakes triggered massive landslides, which cut off roads and destroyed bridges, local media reported, adding that they imperiled rescue and relief efforts.
Meteorologists forecast heavy rain and wind, adding that the temperature is expected to drop to 13 degrees Celsius.
"The wind is expected to pick up and rain will likely get heavier," Prime Minister Shinzo Abe said during a government meeting. "Rescue operations at night will be extremely difficult ... It's a race against time."
230 aftershocks hit Japan in 48hrs
The latest big aftershock came hours after the second deadly earthquake and measured magnitude 5.3.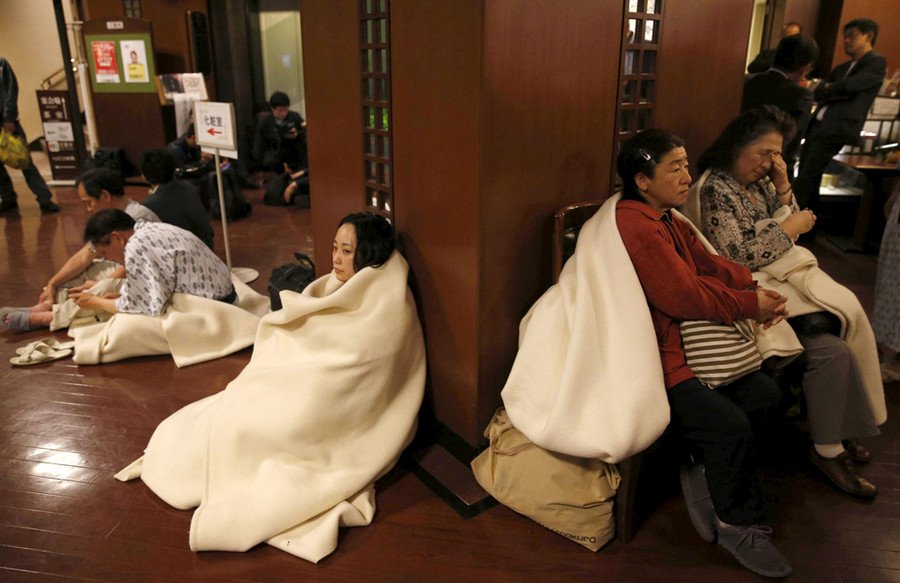 Japan has suffered more than 230 aftershocks of at least level 1 on the Japanese scale since Thursday's earthquake, Japan's meteorological agency said.
"We have already seen several in the mid to upper 5 plus magnitude range, and over the next several days and weeks, we would not be surprised to see more earthquakes of this size," said John Bellini, a geophysicist with the USGS, as cited by Reuters.
Local residents are still in shock over the earthquakes and the following tremors.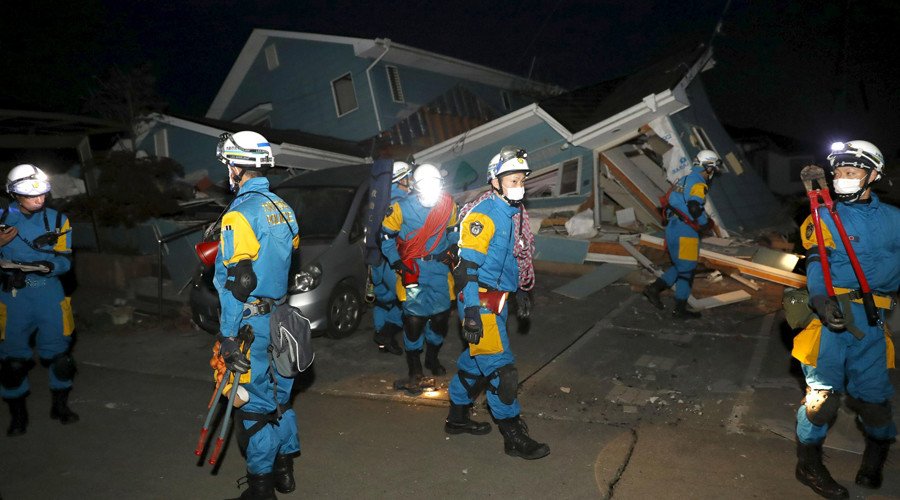 "We left my house as we could not stay due to continuous jolts," local resident Hisako Ogata, 61, told AFP, "It was so scary," she added. "Thank God we are still alive."
Mount Aso volcano erupts after 2 quakes
Hours after the second deadly earthquake, the Japan Meteorological Agency recorded an eruption at Mount Aso, the largest active volcano in Japan.
The 1,592-meter volcano is nearly 30 minutes' drive from the earthquakes epicenter. It is not yet clear if the volcano's seismic activity is connected to the quakes.
Numerous photos and videos on social media showed plumes of smoke rising some 100 meters into the sky.
Historic monuments damaged in the quakes
Several historic monuments in Kumamoto Prefecture have been badly damaged in the quakes.
The 1,700-year-old Aso Shrine in the town of Aso, one of the oldest and most prominent shrines in Japan, has been severely damaged. Some of its curved tiled roofs were flattened on the ground.
The shrine's towering gate, known as the "Rōmon" or "Cherry Blossom Gate" collapsed and is in ruins. The haiden or worshiping hall was also destroyed.
The Aso Shrine was officially recognized as one of the Kanpei-taisha - it stood in the first rank of government-supported shrines.
The quake has also destroyed another historic Japanese icon – the 400-year-old Kumamoto Castle, which is considered one of the three main castles in Japan. Its walls were severely breached, TV footage showed.
The castle's administrative office closed the structure to tourists.
"Please do not go close to the stone walls as aftershocks continue," the office announced on its Facebook page.
You can share this story on social media: