Several aftershocks hit Kumamoto prefecture, Japan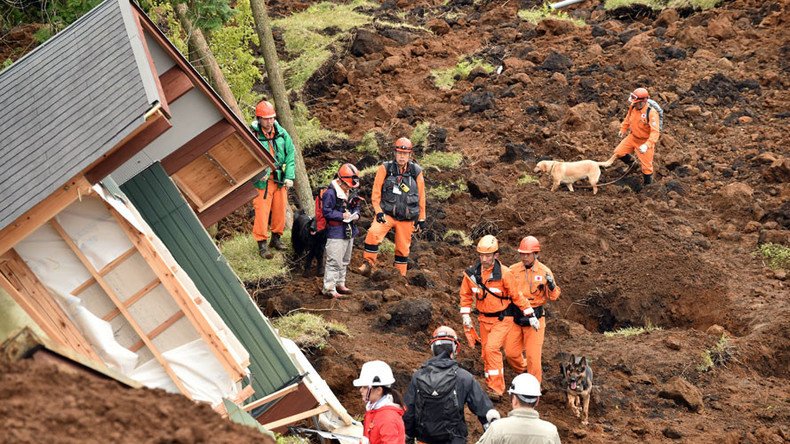 Several aftershocks, one of which measured a magnitude of 5.3 on the USGS scale, have hit Kumamoto prefecture, Japan. It comes just days after two deadly earthquakes hit the region, killing 42 and injuring more than 1,000 others.
A tsunami warning has not been issued, Japanese broadcaster NHK reported.
READ MORE: The Big Ones: Scientist warns up to 4 quakes over 8.0 possible under 'current conditions'
The aftershocks measured 3.9 and 3.4 on the Japanese scale, according to the country's Meteorological Agency. Each had a depth of 10 kilometers (6.2 miles).
The US Geological Survey (USGS) put the first aftershock at a magnitude of 5.3, with the epicenter located 25 kilometers (15.5 miles) east of Kikuchi, Japan.
It comes just days after two deadly earthquakes rocked the area, forcing the evacuation of 110,000 people.
Forty-two people died in the two quakes, and over 1,000 were injured. Around 190 of the injured are in serious condition, according to the Japanese government.
The quakes triggered massive landslides, which cut off roads and destroyed bridges, local media reported.
Around 30,000 rescue workers are still searching for survivors, and handing out food to those unable to return to their homes.
After the second quake, the ground along the Futagawa fault line zone in Mashiki, Kumamoto Prefecture, had shifted sideways by around 1.8 meters (5.9 feet), according to researchers cited by The Mainichi.
Seismic experts believe the two quakes occurred on separate fault zones, with the second being triggered by a chain reaction involving a series of tremors, Japan Today reported.
Earthquakes are common in Japan, as it is part of the seismically active "Ring of Fire," which sweeps from the South Pacific islands to Indonesia, Japan, across to Alaska, and down the west coast of the Americas.
A quake measuring a magnitude of 9 hit northern Japan in March 2011, triggering a tsunami. The result was the worst nuclear crisis since Chernobyl, caused by the meltdown of nuclear reactors at the Fukushima Daiichi nuclear plant.
You can share this story on social media: