North Korea needs 'powerful nuclear deterrence' – FM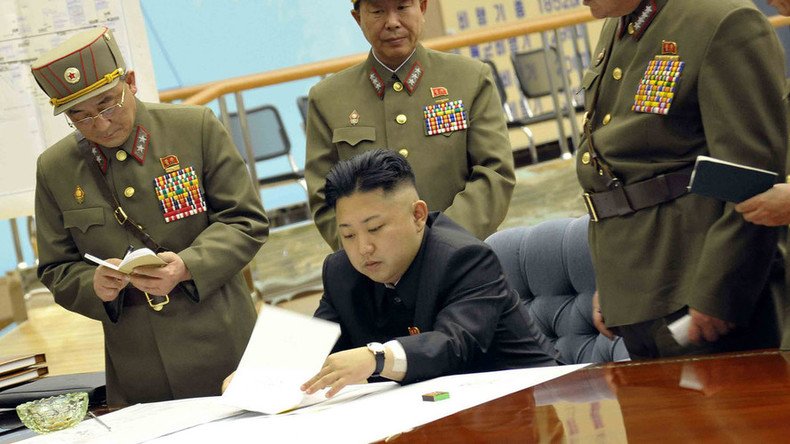 North Korea requires "powerful nuclear deterrence" in order to cope with a security threat coming from the US, the country's Foreign Ministry said.
"The US continued pursuance of extreme hostile policy and nuclear threat and blackmail against the DPRK (Democratic People's Republic of Korea) will only make the latter make drastic progress in bolstering nuclear attack capabilities," a ministry spokesman said, as cited by state news agency, KCNA.
The agency said that the statement was a response to Washington increasing its pressure on Pyongyang after its test of submarine-launched ballistic missile on Saturday, according to Reuters.
READ MORE: N Korea launches ballistic missile from submarine – Seoul
Meanwhile, South Korea's Yonhap news agency reported that the North may be ready for a new test of an intermediate-range ballistic missile after its previously launch failed earlier this month.
"There are indications that the North may fire a Musudan missile that it launched and failed on Kim Il Sung's birthday on April 15," an unnamed government official told the agency.
The nuclear-capable Musudan missile has a range of more than 3,000 kilometers, which enables it to hit Japan and even US territory of Guam under threat.
On Tuesday, Barack Obama told CBS that the US "is spending a lot more time positioning our missile development systems, so that even as we try to resolve the underlying problem of nuclear development inside of North Korea, we're also setting up a shield that can at least block the relatively low-level threats that they're posing now."
The US president stressed that America could "destroy North Korea with our arsenals," but added that there's "no easy solution" to the problem as strike on Pyongyang would have great humanitarian costs and also affect neighboring South Korea.
"They are erratic enough, their leader (Kim Jong Un) is personally irresponsible enough that we don't want them getting close" to getting nuclear arms, Obama added.
READ MORE: No free ride: Keeping US forces in South Korea saves money – US Army Pacific Commander
Earlier this week, Northern Foreign Minister, Ri Su Yong, said that Pyongyang will stop conducting its nuclear tests if the US puts an end to its annual military drills in with its South Korean allies.
Tensions in the Korean peninsula escalated after the North conducted what it claimed to be a hydrogen bomb test in early January and successfully put a satellite into orbit a month later, going against several UN Security Council resolutions.
You can share this story on social media: