MMA fighter Jeff Monson turns up as Russian communist leader's sidekick for Lenin's bday (VIDEO)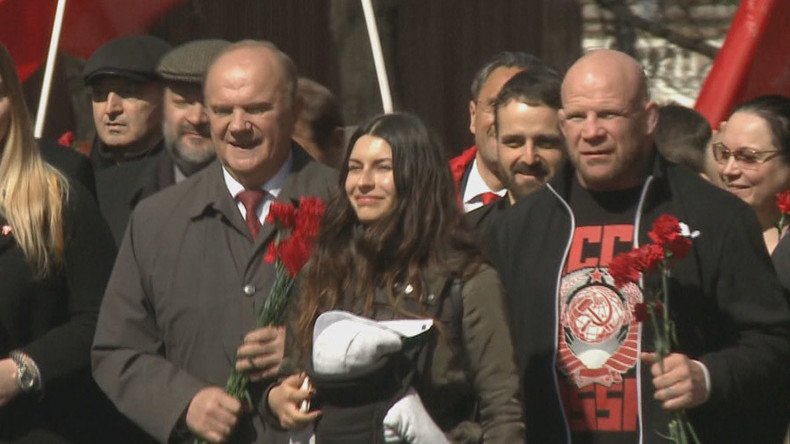 US Mixed Martial Arts fighter Jeff Monson paid his respects to Vladimir Lenin on Friday, attending a ceremony at his mausoleum on Red Square alongside Russia's Communist Party leader Gennady Zyuganov to mark the Bolshevik pioneer's birthday.
Dressed in sports attire and a t-shirt stretched across his muscled chest emblazoned with Soviet symbols, the former American fighter stood shoulder to shoulder with Russia's Communist leadership in the front row on Red Square.
Red carnations in hand, the Communist Party led by its head attended a ceremony at the mausoleum in which Lenin's body lies in repose on public display.
"Today we are here celebrating Vladimir Lenin. His body is passed away, but his spirit is gonna live on," Monson told RT's Ruptly.
READ MORE: Monson: It's been my dream to join Communist Party (RT VIDEO EXCLUSIVE)
"Many have tried to improve the life of humankind, but not all of them succeeded," the Communist leader said in turn, while praising Lenin's achievements.
Earlier in April, the eccentric MMA fighter surprised the internet when he expressed his desire to join the Communist Party of the Russian Federation (KPRF). Having previously bashed his homeland's handling of the economy, Monson said he wanted to enlist in the KPRF, telling RT that he has been "a lifelong ardent communist."
You can share this story on social media: