Free your inner pilot with RT's 360 cockpit view of Moscow Victory Day parade rehearsal
Published time: 22 Apr, 2016 16:06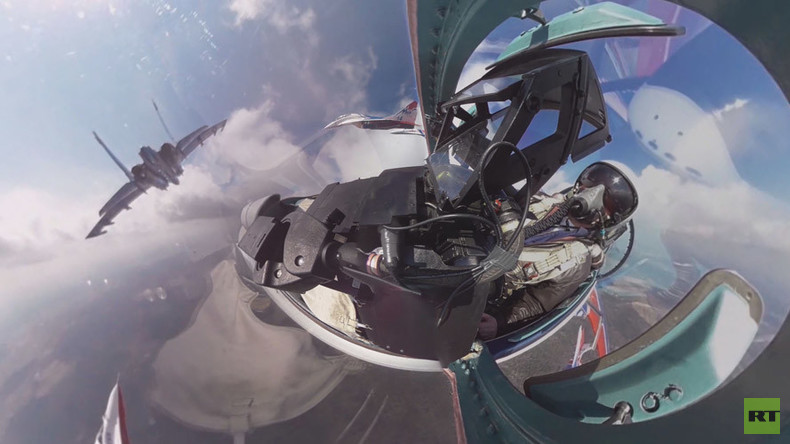 Barrel-rolls, skewed-loops, 'Cuban diamonds', Nesterov maneuvers… experience all the aerial stunts from the cockpit of a fighter jet in RT's 360 panoramic video taken at a rehearsal for this year's Victory-Day parade in Moscow.
Russian Defense Force aircraft have been practicing their maneuvers at Kubinka, just outside of Moscow, with some 100 helicopters and airplanes – 71 main craft and up to 40 as backup – pulling off the stunts.
Two cameras were secured in the cockpit of the leading "Russian Knights" Su-27, which has been practicing one of the toughest aerobatic maneuvers – the 'Cuban diamond', also known as the "Cuban Eight" – with aircraft 'drawing' a Bowditch curve in the air. It was performed by five Su-27s and four MiG "Swifts".
Seventy-one aircraft are planned to fly over Moscow's Red Square on the 71st WWII Victory Day parade, with the newest military transport aircraft Il-76MD-90A set to grace the parade for the first time.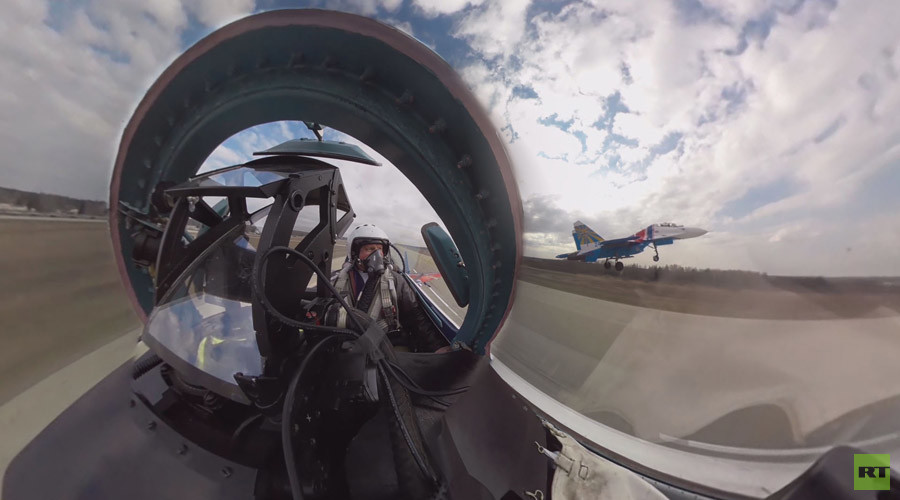 A total of 17 groups will take part, from heavy and operational-tactical aircraft to long-range and military transport planes. Time intervals between the groups are preliminarily set for about 20 seconds, with aircraft flying at an altitude of between 150 and 400 meters.
READ MORE: Ride with a tank in RT's 360 video of Moscow V-Day parade rehearsal
Apart from aircraft, the May 9 parade will feature last year's sensations, such as T-14 Armata battle tanks, T-15 heavy infantry combat vehicles, Kurganets-25 light tracked armored vehicles and missile systems.
T-90 battle tanks, BTR-80 armored personnel carriers and a variety of other armored vehicles will also take part in the annual parade.