Cloudy with a chance of Humvees: Military vehicles plummet from sky in failed air drill (VIDEO)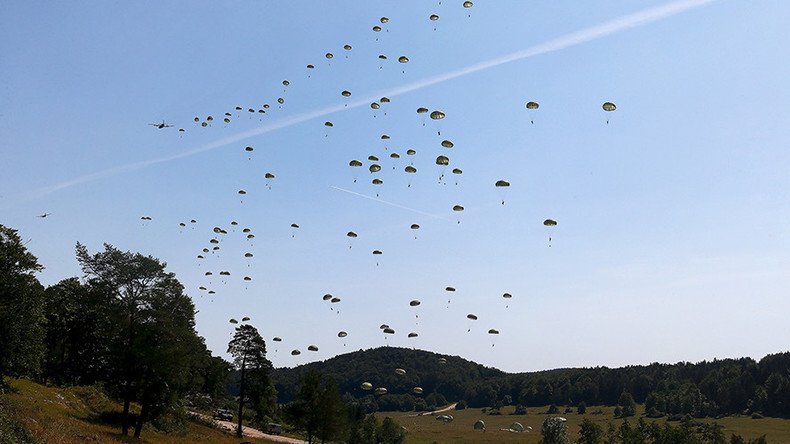 It was raining Humvees last week when a US Army training exercise at Hohenfels military base in Germany went wrong. Three military vehicles detached from their parachute systems and crashed violently to the ground.
An airborne drill at Hohenfels – the main headquarters of the US Army's Joint Multinational Readiness Center – went wrong when C-130 Hercules tactical airlifters began to put HMMWV (Humvee) military off-roaders on the ground.
As a result, three improperly-fastened vehicles became three heaps of deformed metal.
WARNING: STRONG LANGUAGE
"The 173rd Airborne Brigade forgot how to Airborne," says website US Army WTF Moments, which posted the video of the Humvees falling like stones from the sky.
Air insertion of military hardware is a tough job technically, as the airdropped vehicles are supposed to land safely and enter into action immediately after.
"To airdrop a Humvee, the vehicles are loaded onto metal pallets, sometimes with the use of a crane. Three G-11B parachutes (with a diameter of 100ft (30.5 meters) apiece, and a weight of 275 lbs (125kg altogether) are strapped to the Humvees, while honeycombed pads and pieces of lightweight wood are stacked underneath the vehicles to absorb the shock of a normal landing," the Tactical Air Network explained.
"When in the air, the loadmaster will open the C-130's rear cargo door when pilots slow down the aircraft to approximately 160mph (257km/h), releasing a smaller drogue chute attached to the vehicle pallet. The drag of the drogue chute yanks the Humvee out of the aircraft and into the sky, its G-11Bs deploying soon afterwards for a presumably comfortable float down to Earth," the website wrote.
That last bit, the "comfortable float down to Earth," is where things went awry in this case.
To American troopers' credit, they laughed off the incident, probably relieved none of them had happened to be either on the field where the doomed Humvees fell, or behind the wheel of one of the vehicles.
You can share this story on social media: