NATO stages huge airborne drill in Europe, says 'acting in purely defensive manner' (VIDEO)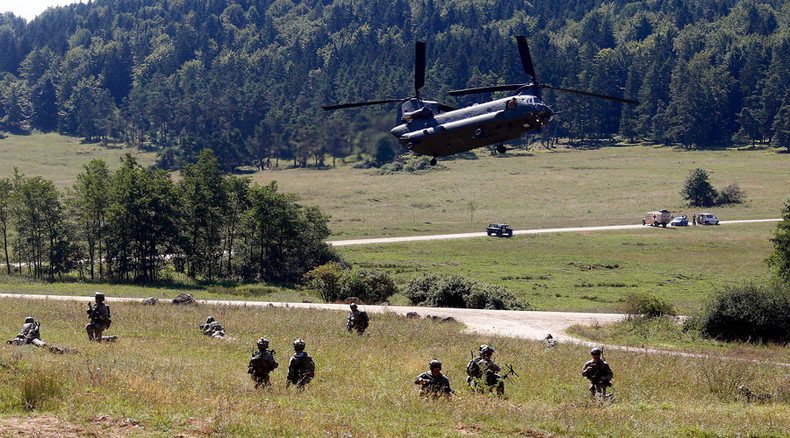 The largest NATO airborne drills in Europe since the end of the Cold War aim to reassure allies against external aggression threat, American generals said, adding that paratroopers landing in Germany are acting in a "purely defensive" manner.
Parachutists of the US-based 82nd Airborne Division began a NATO exercise in Hohenfels near Nuremberg on Wednesday, where joint multinational training command of 1,100 soldiers from seven NATO countries are holding exercise under the command of the US 7th Army.
The exercise codenamed Swift Response has combined multinational troops from the US, Bulgaria, Germany, Greece, Italy, Poland, UK and the US to develop interoperability and improve communication and mutual trust between the air and land military, NATO said in a statement.
READ MORE: US launches biggest NATO airborne drills since Cold War to 'enhance security & stability' in Europe
The exercises' main goal is to affirm the military commitment to defend any NATO member and to deter any possible attack before it comes to war or conflict, organizers said.
"The United States will defend Estonia, will defend Latvia, will defend Lithuania, will defend all of our NATO allies, that will never ever be a question," said Lieutenant General John Nicholson, NATO Allied Land Command Commanding General.
According to Gen Hodges, the alliance's prompt and powerful action should intimidate possible enemies to give the political leadership other leverage but warfare.
"We are honoring our [NATO] treaty commitments [from 1997], and we are not acting in an aggressive manner; we are acting purely in a defensive manner of the alliance against external aggression," Gen Nicholson said.
More than a dozen similar exercises have been conducted by the alliance throughout Europe since the NATO Wales Summit last year, and more drills are upcoming.
READ MORE: Pentagon's new military strategy calls for preserving US dominion of the world
In the meantime, NATO Secretary-General Jens Stoltenberg is paying a visit to Georgia, a country thousands of kilometers from Germany, where the alliance is opening its a joint training and evaluation center to hold exercises and training sessions.
Russian Foreign Ministry spokesperson Maria Zakharova has dubbed NATO's move in Georgia as provocative, and aimed at expanding the alliance's geopolitical influence in the region.
"We regard this step as a continuation of the alliance's provocative policies to expand its geopolitical influence by using the resources of the alliance's partner states," TASS cited Zakharova as saying. "The deployment of such a facility in Georgia is a major destabilizing factor for security in the region."
LISTEN MORE:
You can share this story on social media: