Thüg life: German right-wing demonstrators clash with anti-fascists on Hitler's birthday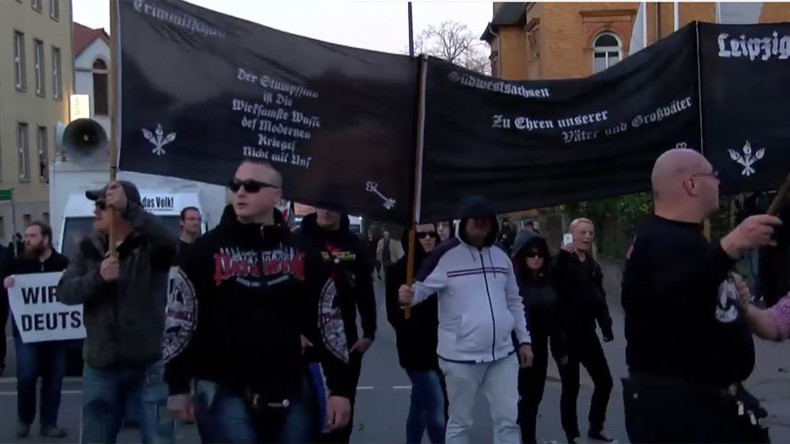 Hundreds of supporters of a Pegida-allied anti-immigrant group were confronted by 3,000 counter-demonstrators, who aimed to disrupt a torchlit rally on Hitler's birthday. Anti-fascists threw stones and fireworks at activists as police tried to intervene.
The rally, organized by the right-wing Thügida movement, an anti-immigrant group allied with Pegida in the central German state of Thüringen, saw some 300 participants light torches and march through the city Wednesday. The far-right activists waved banners that read "Freedom of expression begins where the political correctness ends" and "Freedom of expression instead of the muzzle."
In response to the far-right demonstration, anti-racist activists staged counter-rallies. The situation took a violent turn as protesters began hurling stones, bottles and throwing fireworks at the Thügida activists. Several vehicles were damaged, including three police vans. Police, who were dispatched to the streets in large numbers to deter the violence, got involved in skirmishes between the rivaling sides.
The officers deployed pepper spray and water cannons and had to eventually storm the protest. Five policemen were reported injured in the scuffles, DPA reported, and at least 25 far-right activists were detained.
Despite the Left Party's call to cancel the right-wing torchlit march, or least postpone it until after Hitlers birthday, and an initial denial of permission from the local police, a court sided with Thügida and approved the rally – on condition that the event wasn't aimed at celebrating Hitler's legacy.
On its official Facebook page, Thügida hailed the event as "a great success," but accused police of double standards for ignoring numerous attacks on its activists with "stones, beer bottles, fireworks and balloons" while at the same time requesting them to get rid of torches.
Pegida, a German-language abbreviation for Patriotic Europeans Against the Islamisation of the West, was founded in the fall of 2014 in Dresden as an anti-immigrant, anti-Islamic movement. It has been repeatedly described as pro-fascist by its opponents.
READ MORE: Overcome 'dark side': Campaign urging residents to embrace refugees launched in Germany