Far-right 'pirates' go refugee hunting on Danish-Swedish border (VIDEO)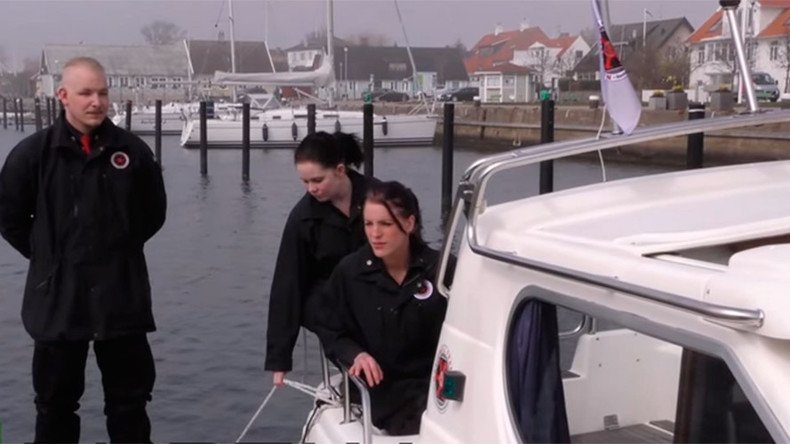 A group of self-proclaimed nationalist vigilantes from Sweden are patrolling the strait of Oresund to prevent illegal immigration. The 'pirates' think Sweden should help refugees from a distance, not actually on Swedish territory.
The 'pirates', members of Nationell Framtid (National Future), are using speedboats to monitor the 5km wide water boundary between Sweden and Denmark. The vigilantes say coastal border guards are not doing enough to stop migrants coming from Denmark.
Border checks introduced in January aim to deal with the migrant flow. Sweden said it wasn't able to host any more refugees. In 2015, it took in some 190,000 asylum seekers.
Passengers traveling from Denmark to Sweden via the Oresund Bridge or by train need a valid document to proceed. The situation, however, is different on the water, where smugglers can circumvent border checks.
READ MORE: Hundreds of angry commuters clash with police over Denmark-Sweden border control (VIDEO)
"We're not seeing the coast guards today, we're not seeing them so much out there. I don't know how much they are out there, but most of the time we don't see them," Dennis Ljung, the founder of the group, told Ruptly news crew that accompanied the patrol mission on Saturday.
Wearing a red tie and a black outfit plastered with the organization's insignia badges, the sea raiders often wear balaclavas and approach their targets at full speed. As the pursuit begins, the vigilantes follow a similar pattern to secure the Swedish border. First, using a loud speaker or a bullhorn, they tell the target boat captain to halt further advances into Swedish waters and return to Denmark, warning the crew of the Danish vessel that the police are on their way.
"If we find any smugglers and refugees, we will inform the coast guards, or if they don't turn around we call the coastguard in Sweden," Ljung said.
If their target refuses, the group starts to interfere with the target boat by maneuvering their small speedboat in front of the other vessel to hinder its progress.
While denying any affiliation with extreme right ideology, Ljung told Ruptly that the "Swedish people and the Norwegians can't live together with Islamic people, it's not going to work."
"We have looked at many cases now in Sweden where Muslims behave violently. It is not working, we cannot have them here. We should help them but not in Sweden," he added.
According to government figures, Sweden received a record 163,000 applications for asylum in 2015 and is expecting a further 100,000 in 2016.
Europe has been experiencing the worst migrant crisis since the end of WWII. More than one million asylum seekers entered Europe in 2015, most of them from Syria, where a civil war has taken the lives of 250,000 people and displaced 12 million since 2011, according to UN figures.
You can share this story on social media: