Iranian refugee convicted of attempted suicide at Australian-run detention in Nauru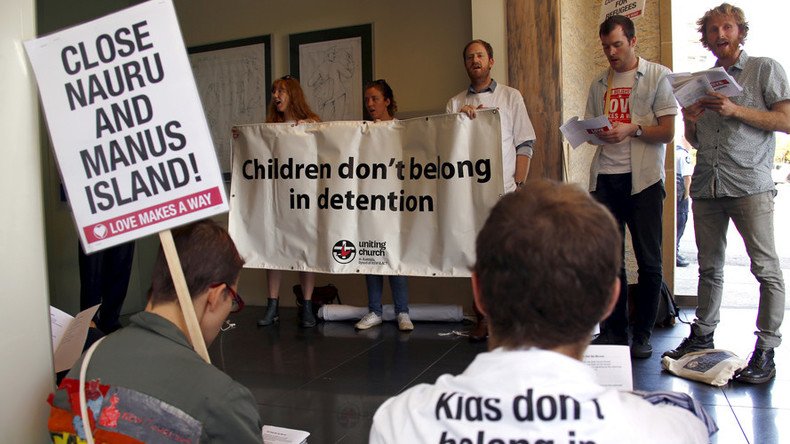 An asylum seeker who attempted suicide is being held at a refugee facility on the South Pacific island of Nauru where the act is a criminal offense.
Sam Nemati, the single parent of an eight year old girl, pleaded guilty to the offense of attempted suicide on Friday and was given a 12 month suspended sentence.
Prosecutors had aimed to impose a custodial sentence of between one and two months to "deter other would-be offenders who resort to self-harm to avoid lawful actions against them or to get what they want," according to a government statement.
READ MORE:Australian guards jest about shooting refugee 'c*nts' and 'f*ckers' on Nauru (VIDEO)
A spokesperson for the Australian Department of Immigration and Border Protection told Reuters all refugees in Nauru were subject to that country's laws.
Refugee boats trying to reach Australia are intercepted and sent to camps on Nauru or Manus island in Papua New Guinea under the country's tough immigration policy.
After spending two years in an Australian-funded detention center on the island, Nemati and his daughter moved to Nauru's Nibok resettlement area in January, according to ABC News.
However, police visited the area after being alerted that the move had been made without the permission of service provider Connect Settlement Services. When Connect officials arrived to remove Nemati's belongings, he reportedly became agitated and attempted suicide.

He was subsequently taken to hospital, but was charged with attempted suicide later that day.
READ MORE:'He cut his stomach open to prove it's empty': Iraqi refugee fears death in Aussie detention center
Controversial treatment
Refugees and asylum seekers at the facilities on Nauru have protested their detention and conditions at the center.
Details of allegations of physical and sexual abuse against refugees at Nauru which have gone unpunished were released in the Moss report last year. It was also reported last year that residents at Nauru's detention center had made suicide pacts and were being treated like animals.
The accounts were given by two social workers from Save the Children, who were later ordered to leave the facility when former immigration minister Scott Morrison claimed they encouraged refugees to self-harm and to protest.
An independent review of the staff removals later found they were unjustified and there was insufficient evidence behind the accusations.
In a statement issued after Nemati's conviction, the island's government said they are concerned about self-harm being used as a "method of protest" and they "want to stamp out this practice".
The conviction has sparked widespread outrage and disgust among human rights advocates and opposition politicians in Australia. Labor has called on the Immigration Minister Peter Dutton to investigate the matter urgently.
"It's entirely inappropriate to make it a criminal offense to attempt suicide," Barri Phatarfod, from Doctors For Refugees, told ABC.
"It just shows that the government's statement that the people in Nauru are going to be cared for by the same standards that we care for people in Australia is just an outright lie," he added.
You can share this story on social media: