Australian guards jest about shooting refugee 'c*nts' and 'f*ckers' on Nauru (VIDEO)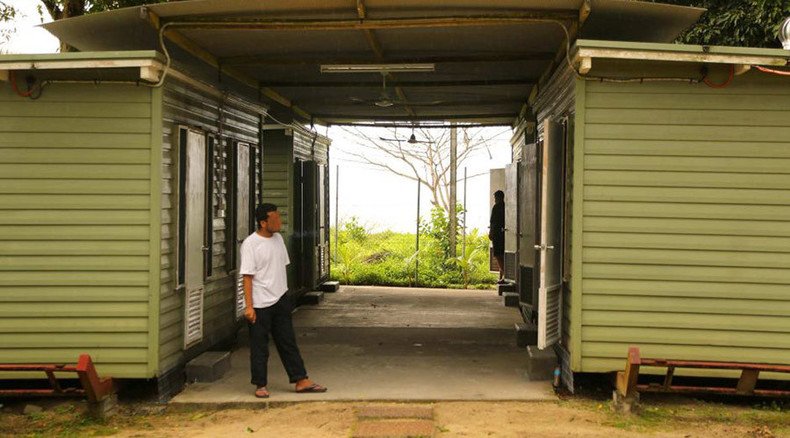 A whistleblower has leaked 2013 footage of Australian security guards joking about using violence against asylum seekers in the Nauru camp just hours before a riot broke out at the facility, which is under investigation for sexual abuse and torture.
In the video, filmed by a camera worn on the uniform of one of the security guards working at the detention center on July 13, 2013, a group of nervous-sounding officers discuss how they would deal with a brewing uprising of the camp's interned asylum seekers.
"If they do try to escape, the coppers want your team up there to give them a hand, arrest the f**kers," says one officer, with another later referring to the refugees as "c*nts".
A senior team member in the group then says local police may or may not enable the guards to use force by designating them as "authorized officers."
"Now I don't understand Nauruan, so I'm just gonna say he told me to do everything," jokes one guard.
"I'm pretty sure he said shoot that guy. I'm fairly confident he gave me that order," says another unnamed official, as the others giggle.
READ MORE: ​Abuses against refugees at Aussie-paid detention camp 'known by govt for years'
The entire group was made up of contracted employees from Australia's Wilson Security, a large private company.
The riot, which did break out later that day, resulted in approximately $45 million worth of damage, as refugees uncertain of their application status took their anger out on the buildings, and clashed with police and locals. The authorities laid blame for the violence entirely at the feet of the detainees, more than 125 of whom were charged with crimes.
The center is located in a tiny Pacific nation off the coast of New Zealand that receives immigrants who attempt to reach Australia by boat. About 700 asylum seekers – predominantly from Sri Lanka, Afghanistan, Iran and Iraq – live at the facility. The center is maintained by the Australian government, which pays Nauru an annual fee as compensation. It remains in operation, despite calls for it to be shut down from human rights groups.
Abuse, drugs and cover-up allegations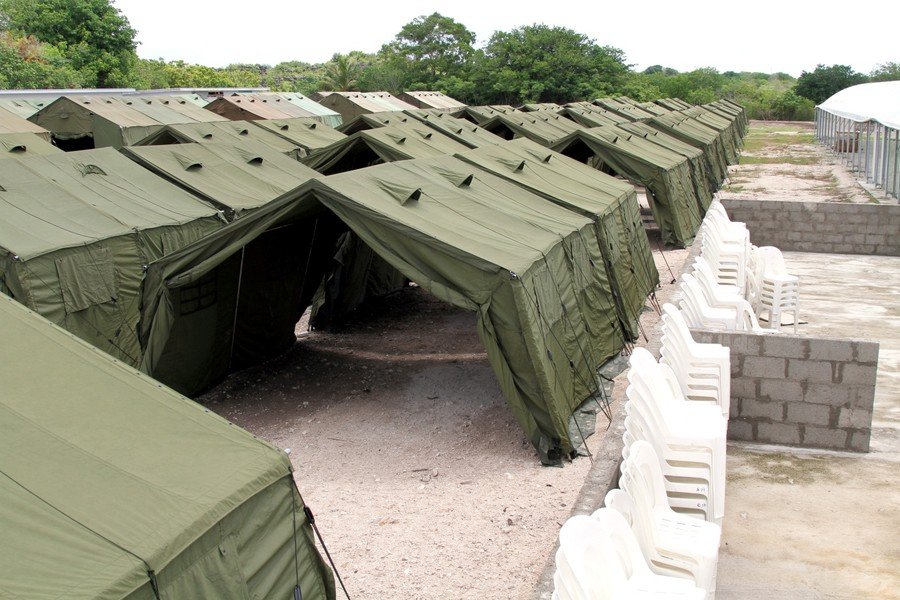 A parliamentary inquiry that began in May has uncovered a number of even more disturbing allegations.
An unnamed, former Wilson Security employee said guards at the facility have used waterboarding and another torture technique known as "zipping."
"This process occurs by using cable ties to secure an asylum seeker to a metal bed with metal bars at the base ... the bed is thrown into the air and injury caused to the asylum seeker as the bed strikes the floor," said the witness.
Wilson has dismissed the allegations as "inflammatory, incorrect and misleading."
The inquiry has found that the center has received 67 allegations of child abuse, nearly half of them involving staff. Thirty-three detainees have complained of sexual assault, and five have claimed that they were offered drugs and other perks in exchange for providing sexual favors. Not a single person has been arrested in connection with the allegations.
David Isaacs, a doctor who worked with the refugees on the island, said he witnessed multiple cases of abuse, with some refugees even being driven to suicide.
"I saw a six-year-old girl who tried to hang herself with a fence tie and had marks around her neck. I've never seen a child self-harm of that age before," he told state broadcaster ABC on Friday.
Other anonymous sources have painted a picture of neglect and moral decay among the staff. Numerous reports have emerged of personnel coming in drunk or using drugs during their shifts. One whistleblower told ABC that mandatory blood tests were never performed.
Wilson whistleblowers have said that reporting violations was discouraged, and incriminating documents had been shredded at the behest of superiors.
Australia's immigration ministry has joined Wilson Security in denying many of the allegations.
"The submission to the Senate Committee makes numerous, unsubstantiated assertions," a spokesman said on Friday.
"The Government notes that both service providers to the Nauru Regional Processing Centre – reputable major companies – have strongly rejected the claims made in the submission."
The results of the inquiry are expected to be publically revealed in the coming weeks.
You can share this story on social media: