Secretive 'FSB Batmobile' & 'Tiger' assault vehicles debut in Dagestan anti-terror op (VIDEO)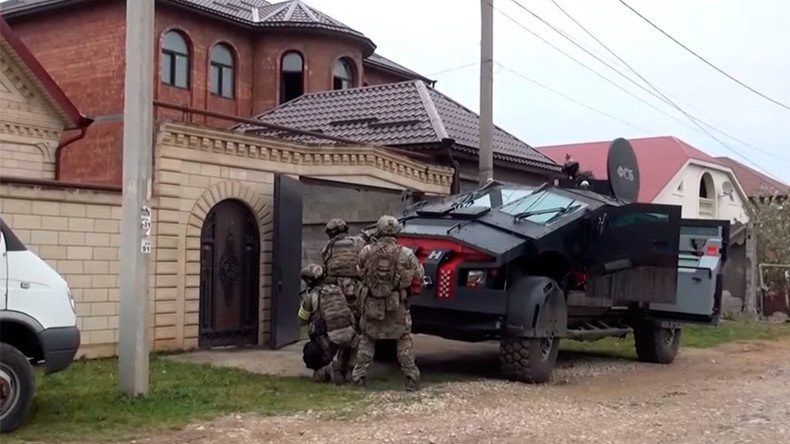 The latest marvels of Russian armored engineering have been deployed by Russian special forces during an anti-terrorist operation in Dagestan. The "Falkatus" and "Tiger" assault vehicles, which were top secret until only recently, were finally caught in action, much to everyone's amazement.
The special operation conducted on the outskirts of Makhachkala earlier this week resulted in the neutralization of three members of a terrorist cell. But besides this feat, the world received its first glimpse of two state-of-the-art armored multipurpose SUVs that military enthusiasts and bloggers have been speculating about for years.
The newly-modified "Tiger" armored vehicle gave a breathtaking performance – firing what appeared to be a missile or a smoke grenade at terrorists who had been holed up in a mansion. The new version of the Russian assault armored vehicle, that had never previously been seen in photos or video footage, can be seen equipped with a turret which offers a 360 degree view. "Tiger" was designed specifically for the Federal Security Service (FSB) special forces for assault operations in dense urban areas.
Unlike the basic version, the assault modification of "Tiger" comes with a more powerful engine and additional armor. New communications and life support installations were added for the convenience of servicemen and its driver.
READ MORE: FSB busts ISIS-linked cell with explosives planning terror attack in southern Russia
In addition to "Tiger" the footage also shows the "Falkatus" armored vehicle in action, whih was previously known as the "Punisher." No one knows the exact characteristics of the new top secret vehicle, but experts believe that it can comfortably accommodate 10 people.
The car allows soldiers to sit back to back to provide all-round visibility. All doors are fitted with narrow viewing windows while the roof over the troop compartment has a circular hatch, which many observers speculate could be used to install a weapon, if necessary under specific battle conditions.
The V-shaped body that has been compared to the Batmobile has armored glass windows and windshield to better dissipate blast waves from explosions. The car is also fitted with Class 6a armor for better ballistic protection. The vehicle also has firing openings in the sides and rear doors.
It is said that "Falkatus" has double-axle chassis, similar to the rally race version that "KAMAZ" uses in the Dakar rally. There is even speculation that "KAMAZ" rally driver and seven time Dakar champion, Vladimir Chagin, was involved in a test driving project.
It is also believed that several modifications of the machine, each of which is different from the other, has already been built. As the specifications of "Falcatus" remain secret, bloggers believe that the 12 ton vehicle has 730 horsepower under the hood which allows it to reach speeds of up to 200 kmh.
The "Falcatus" made its debut to the public when President Vladimir Putin inspected the FSB's latest special operation vehicles in Moscow in February. The president also inspected a giant KAMAZ-produced "Viking" armored vehicle, based on the KAMAZ-4911 Extreme, originally designed for international racing events such as the Dakar Rally, and an armored dune buggy featuring rally-car seats.
You can share this story on social media: