Russia's Batmobile: Putin inspects latest in cutting-edge combat vehicles (VIDEO)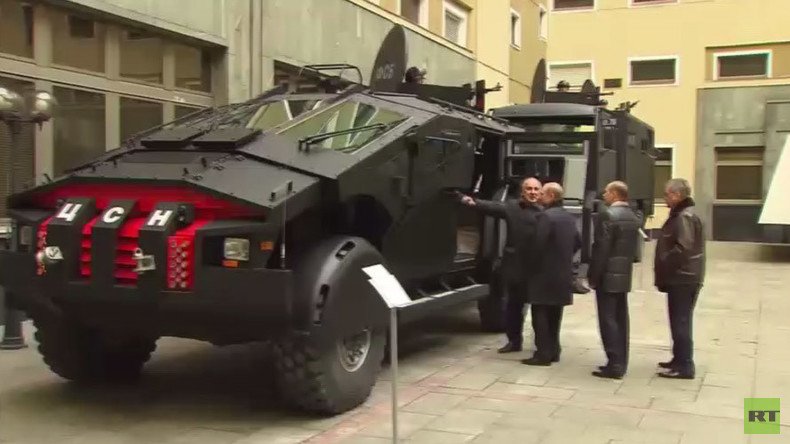 The latest addition to the Russian security services' arsenal comes in the form of a Batmobile. Informally known as 'The Punisher,' the armored combat vehicle was put on display for the president and is being touted as an answer to the American Humvee.
President Vladimir Putin inspected the Federal Security Service's (FSB) latest special operation vehicles in Moscow on Friday. The most eye-catching of the bunch was the cutting-edge ZiL Karatel armored car, which has a slight resemblance to the Batmobile, the legendary car from the Batman movies.
FSB Director Alexander Bortnikov personally walked Putin and Defense Minister Sergei Shoigu around the enormous combat vehicles. The ZiL Karatel, code-named 'The Punisher,' really wowed the officials.
Until recently, The Punisher was kept under wraps, although rumors of the monster have been circulating for several years now. The vehicle can comfortably accommodate 10 people and has a V-shaped body to better dissipate blast waves from explosions or projectiles.
READ MORE: Killer drone squad: Russia unveils anti-armor assault multicopter (PHOTOS, VIDEO)
According to Russian media, introducing the new vehicle Bortnikov gave away some of its specifications: the car is fitted with Class 6a armor, designed for ballistic protection, has firing openings in the sides and rear doors, as well as a rooftop revolving hatch gunner, and the paratroopers' seats are arranged so they could sit back-to-back, allowing them a panoramic view.
The president also inspected a giant KAMAZ-produced 'Viking' armored vehicle, based on the KAMAZ-4911 Extreme, originally designed for international racing events such as the Dakar Rally, and an armored dune buggy featuring rally-car seats.
The presentation of the vehicles took place after Putin's annual address at the Federal Security Service Board Meeting, where he assessed the department's achievements over the previous year. During the meeting he congratulated the FSB on its work on preventing terror attacks planned against Russia.
"Thanks to your efforts we suppressed the activity of the underground groups and factions that were ready to attack our country. It's obvious that you have greatly succeeded with preventive work in this area", Putin said.
READ MORE: US A-10s bombed city of Aleppo on Wednesday, shifted blame onto Moscow – Russian military
He also outlined goals for the department for 2016, namely to stop international terrorists from entering Russia, stem terrorists' recruitment on Russian soil and increase control over migrants arriving in the country. He also stressed the necessity to block the access of international intelligence services to any secret information concerning the operation of Russia's military facilities, defense industry sites and leading research centers.
You can share this story on social media: