US could have shot down Russian jet flying near destroyer, Kerry says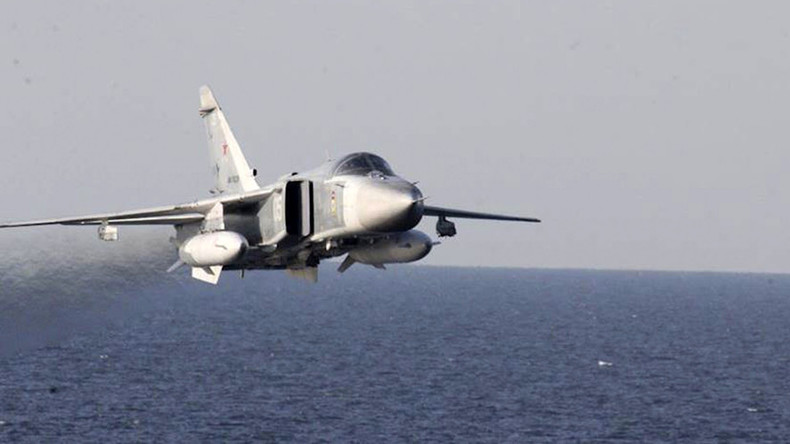 A Russian military jet that flew near a US destroyer could have been shot down under US rules of engagement, Secretary of State John Kerry said, calling the jet's proximity "reckless" and "provocative."
The Russian Su-24 jet flew 30 feet (nine meters) above the USS Donald Cook during a training exercise on Tuesday, according to the US military's European Command, which referred to the incident as a "simulated attack profile."
Secretary of State John Kerry expressed Washington's anger at the incident on Friday, telling CNN Español that the US "condemn this kind of behavior. It is reckless. It is provocative. It is dangerous. And under the rules of engagement that could have been a shoot-down."
"People need to understand that this is serious business and the United States is not going to be intimidated on the high seas...we are communicating to the Russians how dangerous this is and our hope is that this will never be repeated," he added.
READ MORE: 'Aggressive simulated attack': Pentagon decries Russian jets zooming over USS Donald Cook (VIDEO)
White House spokesman John Earnest confirmed on Thursday that Washington has already raised its concerns with Russian officials.
"I can tell you that that communication has occurred, and we'll seek to resolve our differences through well-established military channels," he told reporters at a press briefing.
State Department spokesman John Kirby said on Thursday that Kerry would specifically be raising the incident with Russian Foreign Minister Sergey Lavrov.
Meanwhile, the Russian Defense Ministry expressed puzzlement at the US reaction to the maneuvers of Russian bombers near the US destroyer.
"All flights of the Russian military jets are performed in strict compliance with international regulations on the use of airspace over neutral waters." Russian Defense Ministry spokesman Major General Igor Konashenkov said on Thursday, as cited by TASS news agency.
"Frankly, I do not understand the reason for such a painful reaction on the part of our American colleagues," he continued. "While in operational proximity to the Russian naval base of the Baltic Fleet, the principle of freedom of navigation of the US destroyer does not negate the principle of freedom of aeronautics of the Russian aircraft."
The US military command previously stated that the aircraft "failed to respond to repeated safety advisories in both English and Russian. USS Donald Cook's commanding officer deemed several of these maneuvers as unsafe and unprofessional."
While, judging by the videos released by the US Navy, the sailors aboard USS Donald Cook were unperturbed by the Russian aerobatic skills and watched the jets, commenting on the maneuvers undertaken instead of attempting to run for cover. They gathered on the top deck of the destroyer to watch the Russian pilots.
"He is on the deck below the bridge lane... It looks like he'll be coming in across the flight deck, coming in low, bridge wing level... Over the bow, right turn, over the bow..." the voiceover on the footage states in what looks more like an instructor's advice on how to maneuver in open waters, rather than the panic that the central command presented it to be.
You can share this story on social media: