Pentagon chief to sail aircraft carrier through disputed South China Sea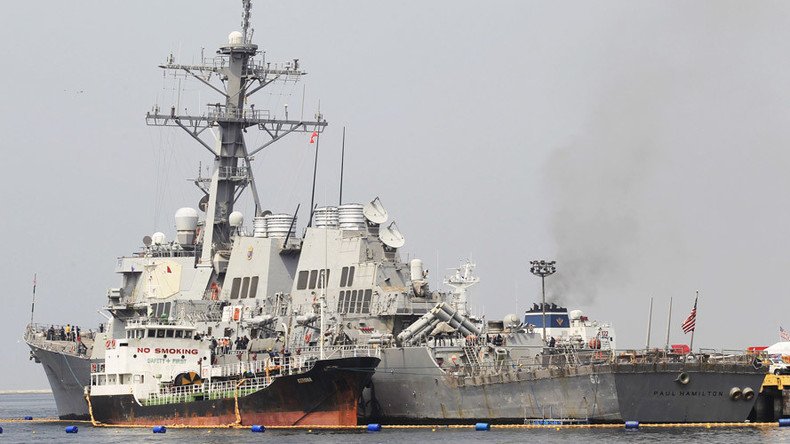 China has accused the US of "sabotaging regional peace" after the Pentagon chief announced a military buildup in the Philippines, disputing Chinese territorial claims. Ash Carter said he will visit an aircraft carrier in the disputed region.
Speaking in the Philippines on Thursday, Defense Secretary Ash Carter said the US will keep nearly 300 troops, including Air Force commandos in the Philippines through the end of the month, despite completing the joint military drills. He added that US troops will have combat aircraft and helicopters at their disposal.
In addition, Carter pledged an increase in US rotations into the Philippines for training and support of military operations.
Speaking at a joint press conference with his counterpart, Defense Secretary Voltaire Gazmi, the Pentagon chief said the new measures are not aimed at provoking tensions in the region but rather "to tamp down tensions here."
Gazmini welcomed the US decision to increase military presence in the Southeast Asian country, saying, "Their presence here will deter uncalled-for actions by the Chinese."
Speaking at a different occasion at a closing ceremony after a joint military exercise, Carter promised Washington "will continue to stand up for our safety and freedoms" and those of its allies.
"With each Balikatan and each cruise by the Stennis, with each new multilateral exercise and each new defense agreement, we add a stitch to the fabric of the region's security network," Carter said in prepared remarks. "This is the network - peaceful, principled, and inclusive – America continues to stand for, and stand with."
He also announced he will visit the USS John C. Stennis when it sails through the disputed waters of the South China Sea.
Carter's remarks, once again produced strong criticism in Beijing, which has repeatedly warned against US interference in the region.
"Military exchanges by relevant countries should not target third parties, much less support a few countries in challenging China's sovereignty and security, inciting regional contradictions and sabotaging regional peace and stability," the Chinese Foreign Ministry said in a statement in response to Carter's announcement, AP reports.
Some 8,000 American and Filipino servicemen participated in the Balikatan military drills aimed at training to ensure maritime security in the region, where China is bolstering its military presence. Last week, the US pledged about $40 million to the Philippines in military assistance for surveillance and naval patrols.
China has territorial disputes over islands in the South China Sea, rich in deposits of natural resources, with Brunei, Malaysia, the Philippines, Taiwan and Vietnam. To assure its claim over the disputed territory, Beijing has been rapidly setting up defense installations in the area.
The US Navy is actively opposing the Chinese initiative, deploying additional warships to the disputed zone and conducting maneuvers in near the Chinese artificial islands and flying over them, citing the "freedom of navigation" principle as an excuse.
You can share this story on social media: