'Rudest manner of press abuse – holding hands in pockets': Turkish reporter slams Germany's ZDF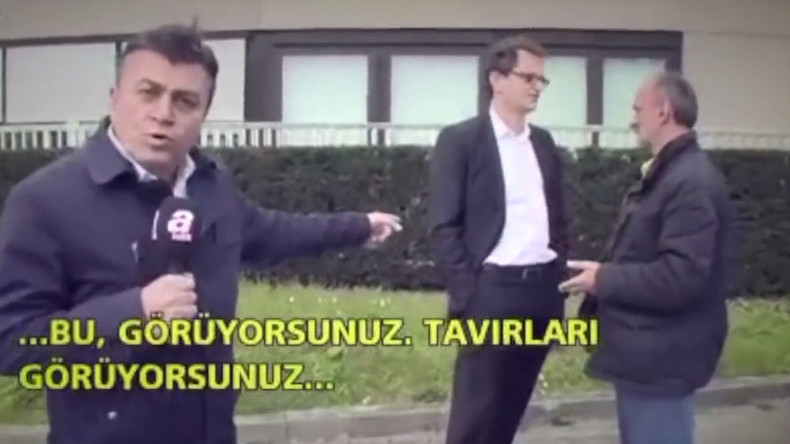 A Turkish reporter has embarrassed himself on social media after slamming Germany's press freedom and in particular the country's ZDF broadcaster. He backed his opinion with the fact that an unsuspecting channel employee had been "holding hands in his pockets."
The desperate journalist from Turkey's A Haber media group spoke out against German state broadcaster ZDF on air, calling a representative of the channel "insulting" and "rude," while the man was standing outside the channel's headquarters and having a private conversation.
After the attention-grabbing Turkish journalist had been refused access to film on the station's premises – reportedly for having failed to get a permission – he apparently decided to make a report outside the headquarters.
Having noticed a man in suit casually involved in a conversation with another man outside the office, the reporter recorded his piece on camera – aka a "lengthy photo bomb." He decided to talk about the ZDF man to the camera, while standing right in front of him.
Pointing to the unsuspecting man (who turned out to be the German channel's spokesman Alexander Stock) and his gestures, the frustrated journalist emotionally reported: "Look, he is holding his hands in his pockets! He is speaking as if he wants to offend us. He is trembling with anger. Look how a ZDF representative is treating a guest!"
With a dramatic music added to the report, he went on to criticize Germany's press freedom.
"ZDF insults and abuses Turkey, our president, our nation with most absurd things and [he] is standing here in front of us in the rudest manner," he said to viewers while standing directly in front of Stock.
"You can see how a ZDF representative is treating us in an insulting manner with his hands in trouser pockets. This is the state of press freedom in Germany. This is how they interpret press freedom in Germany," the Turkish reporter concluded.
The Turkish response to the broadcaster comes as the two nations' relations are being put to the test after one German show created a mocking piece about the Turkish President.
READ MORE: Ankara 'moves away from EU' after reaction to German satire video, commission chief says
In March, Ankara reportedly tried to pressurize Berlin into removing a satirical clip aired by public broadcaster NDR, which criticized Turkish President Recep Tayyip Erdogan for his crackdown on the freedom of speech, as well as the alleged shuffling of electorate votes and a crackdown on women. The two-minute-long song also prompted the Turkish government to summon Germany's ambassador for explanations.
Later, another German, one of the country's most popular satirists Jan Bohmermann fell under fire, with Ankara officially requesting that Berlin criminally prosecute the comedian for allegedly insulting President Erdogan in a poem. The Turkish leader has also submitted a personal complaint against the German comedian for libel.
READ MORE: Defamation? Germany launches criminal probe into satirical poem about Erdogan
Turkey's own press freedom has come under serious attack in recent months, including from Germany.
In March, a correspondent for Germany's Der Spiegel news magazine was forced to leave Turkey after his press credentials were not renewed. The publication's editor-in-chief accused Ankara of violating press freedom. In another internationally publicized incident, employees of Turkey's Zaman newspaper said they felt "like captives" following the government takeover of the daily.
Since the Turkish best-selling paper's seizure, it has turned into a government mouthpiece, with the first edition under the new ownership immediately praising a number of state-run projects and featuring a front page image of a smiling president.