Turkey President Erdogan files complaint over satirical poem by German comedian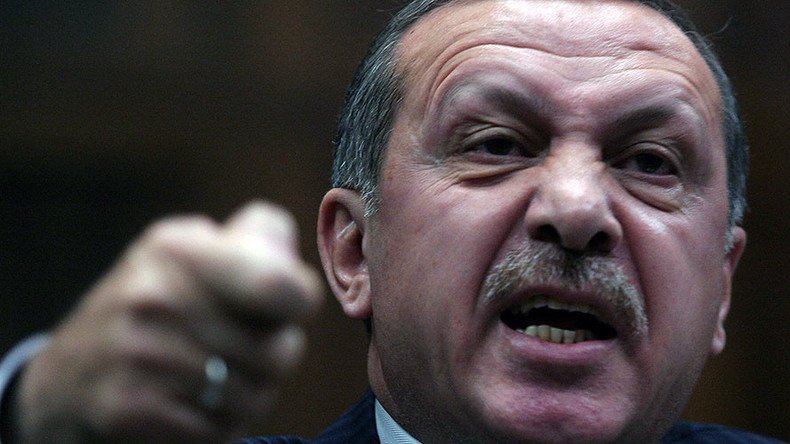 The Turkish president has submitted a personal complaint against a German comedian for libel. This could land the humorist, already under investigation over attacking foreign representatives, in more trouble.
Recep Tayyip Erdogan has submitted a criminal complaint against comedian TV host Jan Böhmermann, author of a satirical poem about the Turkish president, aired in Böhmermann's ZDF Neo Royale program on March 31.
A corresponding diplomatic note had been sent to the German authorities, a spokesman for Erdogan said in Ankara on Monday.
The poem, which contains rough sexual references, accuses Erdogan of repressing Turkey's national and religious minorities: Kurds and Christians.
Before starting the recital, Böhmermann recalled another recent scandal between Berlin and Ankara, sparked after Germany's NDR TV channel aired a musical video mocking Erdogan's ambitions and authoritarian treatment of journalists.
The 35-year-old comedian claims that he used offensive formulations intentionally, to differentiate from that music video.
While the NDR video falls under the protective cloak of the right to artistic freedom, press freedom and freedom of opinion, Böhmermann dubbed his poem an act of "abusive criticism," Reuters reports.
Turkey's Deputy Prime Minister Numan Kurtulmuş claimed on Monday that Böhmermann's poem had insulted all 78 million Turks, even going so far as to label it a "serious crime against humanity" that exceeds "all limits of shamelessness."
Commenting on the complaint filed by the Turkish president against the German comedian, Chancellor Angela Merkel said that finding a solution to the migrant crisis with Turkey's help and limiting artistic freedom within Germany are two different things.
"I want to stress again what was stressed yesterday - we have the fundamental values in the constitution and that includes Article 5, which is the freedom of opinion, freedom of science and of course the freedom of art," she said.
"Art and these fundamental values are valid regardless of any political problems we discuss with each other and that includes the refugee issue and I think Turkey and the European Union and so also Germany have an interest in finding a political solution on it," Merkel said.
ZDF has stated it standswith its host despite all the anger, stressing that "Neo Magazine Royale" is going to stay in place. "The mission will continue as before," ZDF said.
Former Greek Finance Minister Yanis Varoufakis, who has borne the brunt of Böhmermann's jokes himself, spoke out in support of the comedian, tweeting that "Europe first lost its soul [agreement with Turkey on refugees], now it is losing its humor."
Erdogan joins over 20 people who had filed similar complaints against Böhmermann before. They allege that the comedian's satire could be classified as offense of the institutions and representatives of foreign countries, punishable according to Germany's §103 Penal Code. An investigation against Böhmermann was launched a short while ago.
The Mainz prosecutor in Germany confirmed receiving Erdogan's letter of complaint, which has now been added to the ongoing proceedings. German federal government is now considering Turkey's formal request for prosecution of Jan Böhmermann.
If found guilty, Böhmermann's misdemeanor is punishable by a fine or up to two years in prison.
It is certainly not great when things get really crude and ugly, but "if you're talking about comedy, even if you think it's not funny, I don't think that there really is a line when you're talking about people in the public eye and certainly elected leaders. It's one of the benefits of living in a democratic society," comedy performer Josh Telson told RT from Berlin.
Telson doubted the German government would prosecute comedian Jan Böhmermann, because it would open themselves up to "enormous criticism" from the national press and the public.
A public-opinion poll conducted by YouGov has found out that as many as 77 percent of Germans do not welcome the criminal investigation against Böhmermann. Only 15 percent considered the case appropriate.
The poll also exposed that nearly half, 48 percent of the respondents agree with the meaning of the Böhmermann's poem, while 29 percent think the opposite.
As many as 66 percent of the polled Germans criticized the ZDF's decision to delete the corresponding Böhmermann video from the web.
You can share this story on social media: