Topless FEMEN protesters deported from Morocco after defending two gay men on trial (VIDEO)
Published time: 12 Apr, 2016 11:29
Edited time: 4 Sep, 2018 12:22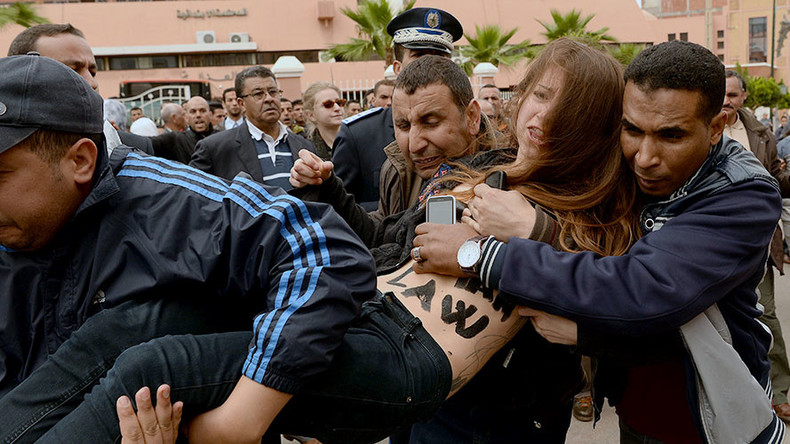 Two FEMEN activists were arrested and later deported from Morocco Monday after attempting to stage a protest outside the trial where two men were convicted of homosexuality.
A YouTube video with more than 200,000 views in less than 24 hours shows the activists being detained in a scrum of protesters and police besides the courthouse in Beni Mellal.
FEMEN activists appear to be outnumbered by "homophobic aggressors" supporting another group of men on trial in the courthouse for attacking the two victims/suspects for their sexuality.
Both activists, identified as French according to Morocco World News, were detained by local authorities and later deported for attempting to "damage public morals."
FEMEN released a statement saying their members were arrested by undercover police.
Pictures of the arrest show the two women being detained by both officials in uniform and civilian clothing.
"While around 100 people were demonstrating in support of the homophobic aggressors, FEMEN was there to condemn state homophobia in Morocco," they said in the statement.
The two men were arrested last month and released for time served after Monday's verdict, although some of those convicted for homosexuality in the north African country can be sentenced to up to three years in prison.
Their case came to light when video of their vicious assault appeared online.
One of their attackers received a six-month prison sentence and another got four months. Two others were acquitted and a fifth is to be tried in a minor's court, according to Inquirer.net.
FEMEN is against the criminalization of homosexuality in the country, last year staging a protest at the Hassan Tower in Rabat where two topless women kissed each other.
The women had the words "in gay we trust" painted on their torsos.
Both women were arrested and later deported by authorities.
The group have called on Morocco to "abolish homophobic laws and honor the commitment it made during the drafting of its constitution in 2011 to ban and combat discrimination against anyone."
Members of the group were acquitted last month in France over charges of sexual exhibitism for a 2015 protest during the trial of former IMF chief Dominique Strauss-Kahn.
The three activists, who wrote "pimps, clients, guilty" and "your turn to be f**ked" on their bare chests, shouted at Strauss-Kahn's car before being arrested by police in February 2015.
READ MORE: 'Victory of all feminists': FEMEN wins right to topless protest in France