ISIS eyes German cities as next targets – spy chief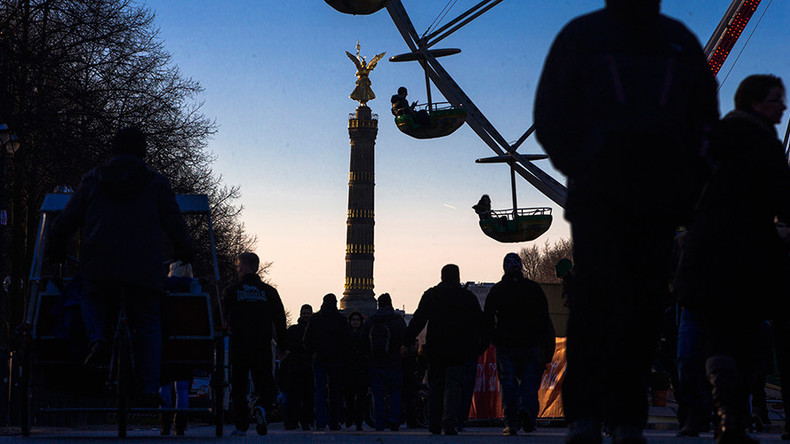 Islamic State militants are eyeing German cities as targets for future attacks and are recruiting supporters from among newly-arrived migrants amid the radicalization of local Arabic-speaking communities, the German domestic intelligence chief has said.
"We see the security situation as very serious, though we have no immediate intelligence on planned attacks in Germany," the head of the Federal Office for the Protection of the Constitution, Hans-Georg Maassen, told Die Welt newspaper in a comprehensive interview released on Sunday. His office acts as Germany's main counter-intelligence and homeland security agency reporting to the Interior Ministry.
"Islamic State [IS, previously ISIS/ISIL] is willing to carry out attacks on Germany and German interests," he said, adding that in IS propaganda German cities are placed next to Paris, London and Brussels – all previous targets of large terror attacks.
The homeland security chief said airports and railway stations, as well as large-scale public events such as open air fests, were the most likely targets for potential attacks. In addition, Maassen stressed that "we've seen many times that those [German nationals] who returned from Syria had links to planning attacks in Germany."
Earlier on Sunday, local media cited security service estimates that up to 800 Germans had traveled to Syria in order to fight alongside IS, with about 150 of them having returned back in 2015.
In addition, nearly 1,100 individuals with "Islamist and terrorist" views have been joined by 8,650 Salafists, and these numbers are growing "practically every day," Maassen said.
Although the threat posed by jihadists is severe, Germany has not seen any large-scale terror attacks so far due to the "successful work of its security services," he noted.
The top security official claimed German intelligence knew "from the very outset" that IS might utilize the migrant influx to insert militants into Europe, but deemed this scenario very unlikely. "Although there was no need to mix its people with refugees, IS did so." He said it was, in a sense, "a message as a show of force" sent to Western adversaries.
There are also people who have entered Germany as "potential terrorists," while "the great problem is that many fugitives – around 70 percent – have no valid IDs."
Salafists and other Islamists already in Germany actively try to recruit refugees into their ranks. Many migrants come without their families, having little or no engagement with society. Some seek any opportunity to socialize, including by attending Friday prayers.
"We have already counted as many as 300 encounters [between Islamists and newly-arrived refugees]. Of concern are many unaccompanied under-18s who are specifically targeted [by Islamist recruiters]."
He added that the "growing Arabic-speaking mosque landscape" in Germany is particularly unsettled, with many religious gatherings being watched by the security service.
Whereas Islamic State is seen by many in the world as an Al-Qaeda-like terrorist organization, Maassen said it could be a more complex phenomenon. "IS makes up an image of a quasi-government with cities and universities and hospitals." It has engaged in the Syrian conflict, but wants to extend its reach far beyond Syria and Iraq, he said.
"It is active in Sinai, in Chechnya, Nigeria, Yemen and also Afghanistan," the German security chief said, noting that it is time for all the countries concerned to team up. "For instance, in the fight against terrorism we cooperate well with Russia."
As Germany is currently a major destination for refugees – as was the case in 2015 – there have been reports of a growing Islamist presence in the country.
Last November, Interior Minister Thomas de Maiziere said his agency estimated the number of German citizens joining IS at 760 people, about one-fifth of them women. In early April, an IS propaganda video emerged online, urging attacks on the Chancellery in Berlin, showing the building on fire.