ISIS urges German jihadists to turn country into battleground with Brussels-like attacks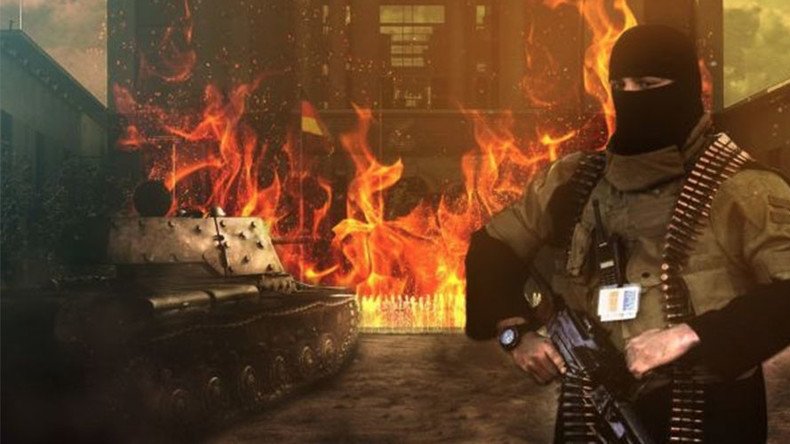 Islamic State has urged its radical followers in Germany to carry out Brussels-like attacks on the Chancellor's office and an airport in one of Germany's main cities. Despite the threats, German authorities have no plans to step up security measures.
Graphics from one of jihadists' recent messages addressed to Germans have been circulation in the German media, a day after the SITE intelligence group reported about a new video surfacing online. According to the group, it contained five pictures, all of which bore the logo of Islamic State (Is, formerly ISIS/ISIL) affiliate, Furat Media.
The footage incites radicalized Germans to take inspiration from the deadly March 22 attacks in Brussels and strike Germany, to which they referred as the enemy and a battlefield.
Employing catchy slogans, jihadists have urged attacks on the chancellery in Berlin, showing the building on fire along with its fighter and a tank nearby. Another image instructs to strike Bonn airport, one of the country's major hubs located in Cologne, German's fourth largest city. A caption there indicated a connection with the attack on Brussel's Zaventem Airport, where IS bombings killed at least 15 people.
Another image presumably addresses Germany's participation in the US-led coalition, which is fighting against Islamic State in Syria. The picture shows a plane, resembling a Tornado jet used by German air forces. It featured a mountainous landscape with bloodied faces of children and women projected in the background, which according to the media might be a reference to civilians killed in the coalition's attacks on IS-held territories.
Germany's BKA federal police, which monitors movements of suspected militants with German passports, has said it was aware of the threats, but believes that the images would not affect security measures inside the country.
"We are aware of this material and our experts are checking it," a BKA spokeswoman said. "It is clear that Germany is the focus of international terrorism and that attacks could happen, but this material doesn't change our security assessment."
READ MORE: Brussels airport and Metro bombings aftermath
There was reportedly further footage, which showed radical Islamists celebrating Brussels attacks. According to The Frankfurter Allgemeine Zeitung newspaper, it showed a three-second shot of Frankfurt Airport, apparently taken from German television news footage. The BKA said it knows about that video as well.
In November, German Interior Minister Thomas de Maiziere revealed that hundreds of potential terrorists with real battle experience had moved to Germany, the majority of whom were German citizens, who were returning home after fighting with radical Islamist groups in Iraq and Syria.
He said the number of potential attackers living in Germany was "higher than ever before," giving an estimate of about 760 German citizens joining terrorists. About one-fifth of them were women, who usually do not fight among jihadists, but rather "assisting" the terrorists "in other ways," de Maiziere said.
Germany indicated its plans to join the US-led air strike campaign against Islamic State in Syria in December last year, following deadly shooting and bombing attacks in Paris on November 13. At the time, Berlin said it would spend 134 million euros ($145 million) to send 1,200 personnel to the region as well as Tornado reconnaissance planes, refueling aircraft and a naval frigate.
Despite opposition from some political parties at home, Germany carried out of its first reconnaissance mission on January 9, flying two Tornado jets as a part from a Turkish air base.
You can share this story on social media: