Iraqi army kills dozens of ISIS fighters, but 90,000 trapped civilians starving in Fallujah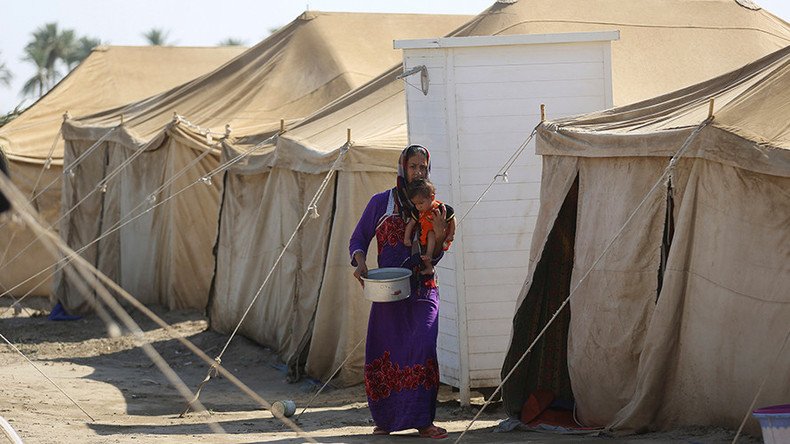 The Iraqi military says 44 Islamic State terrorists have been killed in recent airstrikes across the country. This includes Fallujah, where tens of thousands remain trapped and, according to Human Rights Watch, are inadvertently being starved by the Iraqi Army.
"Under the supervision of joint operation command, and with the support of the department of military intelligence, the Iraqi Air Force pounded ISIS positions in Hawija and Shargat," the statement reads, as cited by Kurdish agency Rudaw.
The statement by Iraq's war media office also said three military bases belonging to Islamic State (IS formerly ISIS/ISIL) were destroyed. In Hawija, forces killed 28 militants, who were allegedly of different national backgrounds. A further 16 were killed in Shargat.
Fallujah is where most of the action appears to be at the moment. The air force "targeted ISIS positions… destroying two explosive and weapons factories and a hospital which was used as a military base."
Whether Fallujah can be retaken without dire human losses is another question.
According to a Human Rights Watch (HRW) report from Thursday, 90,000 residents are trapped and are at serious risk of starvation in the first Iraqi city that fell to IS. Vicious control of every day-to-day aspect of the city's life is being implemented by the terrorist group, with the type of punishments and summary executions that made it infamous when it first drew international attention.
Food prices in the city are off the charts, with a 50kg bag of flour – something that costs around $7.50 in the US – costing $4,166 in one case noted by HRW.
"Food is so scarce that many people have resorted to eating grass," the authors wrote.
The Iraqi Army has a role to play here, according to two unnamed officials who told HRW that it is "keeping shipments of food and other goods from reaching the city." Besieging a populated area is illegal under international law.
According to the authors, the army did try to open humanitarian corridors for food to pass through IS-controlled areas to the people, but IS caught on to the fact.
"Residents in the city confirmed that the local government had tried to open three routes out of the city, but they were discovered and booby-trapped by IS militants," the authors wrote. The siege then continued.
The people can't leave because IS doesn't want its new kingdom to look like it can't sustain life. Grotesquely, they execute those that try, witnesses told HRW.
"The people of Fallujah are besieged by the government, trapped by ISIS, and are starving," an HRW official said in the Thursday report, which calls on Baghdad to work on a better strategy.
You can share this story on social media: