US scares Europe with 'mythical' Russian threat to justify military costs – Russian envoy to NATO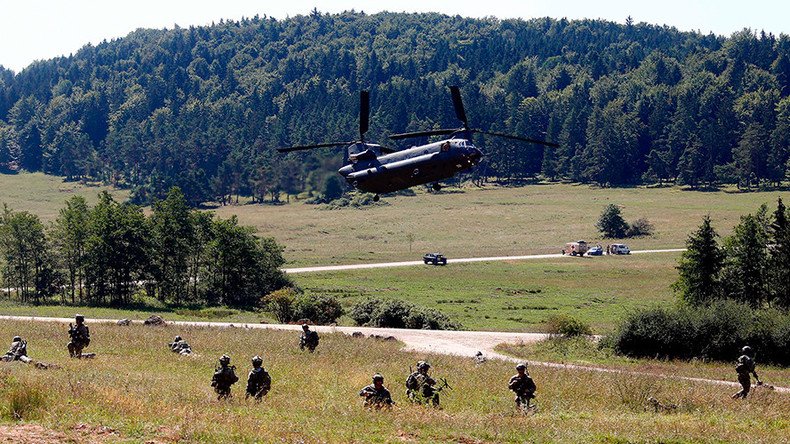 The US is using "mythical" Russian aggression as a European boogeyman to justify increasing defense spending while also hoping to revive NATO's failing mission amid growing global security threat, Russia's envoy to the alliance exclusively told RT.
"The United States and its representatives have repeatedly said that Russia poses a threat to the United States. Many said it was almost an existential threat, but the underlying reason, in my opinion, is obvious," Russia's permanent envoy to NATO Aleksandr Grushko, said.
In just one year, the Pentagon's defense budget request has grown by $2.4 billion. The department is currently hoping for Congressional approval of $582.7 billion. On top of regular expenditures, the sum also includes nearly $60 billion in the overseas contingency operations fund.
To justify the spending boost, the Pentagon officials have resorted to blaming "Russia's aggression, terrorism by the Islamic State of Iraq and the Levant (ISIL) and others" as challenges that affected its "planning and budgeting."
A "strategic threat" from Russia is one of the reasons why Secretary of Defense Ash Carter is urging "practical updates" to the Pentagon's organizational framework.
Last week, the Pentagon announced a plan to increase its troop presence in "the European theater" of up to three fully-manned Army brigades by the end of 2017, citing "an aggressive Russia in Eastern Europe and elsewhere."
READ MORE: Russia vows 'totally asymmetrical' response to major US troop build-up in Europe

However, according to Grushko, Washington is pursuing its internal interests and other goals than protecting its NATO allies, when it cries a "Russian threat."
"The main reason is, above all, the desire to strengthen US leadership in Europe, to strengthen the US position, and unfortunately, apparently, the United States chose the tools to strengthen these positions bloating myths about the Russian threat," the Russian envoy to NATO said.
He added that the US was also looking to "further strengthen its hegemony in European affairs and at the same time to drive a wedge between Europe and Russia."
On the other hand, the US is trying to "breathe new life into NATO" as the alliance is failing to respond to the modern security environment and "combat threats such as terrorism, migration and many others," Grushko stated.
Yet, the Russian envoy thinks that "serious people" in NATO do not buy the existence of the US-promoted "Russian military threat."
"Many countries, primarily located on the southern periphery, of course, are more concerned not about some imaginary Russian threat, but about problems that we see in real life. They are under a wave of migration, they are experiencing terrorist pressure," Grushko suggested. "Unfortunately, history teaches that NATO cannot exist without the big enemy."
He believes that to revive "NATO's Cold War instincts," the West used Ukrainian crisis, which came to a head two years ago and triggered a major reshuffle in the alliance forces in the region.
The Russian envoy to NATO went on to state that "sooner or later" there should be an understanding that unity rather than "investing money and resources in the fight against a mythical" menace was key to tackling what Grushko called "mutual threats" for the US, Europe and Russia.
However, should the US military continue its expansion into Europe, Moscow would "effectively" use its sources to provide security.
"This response will be formulated in full compliance with international law," Grushko said.
Last week, he told Russia-24 TV channel, that Moscow's actions would correspond to its "understanding of the extent of the military threat, would not be extremely expensive, but also highly effective."
"Certainly, we'll respond totally asymmetrically," he said, while not elaborating on his statement.
You can share this story on social media: