Taste of 'Panama offshore': Reykjavik cafe makes special edition ice cream
Published time: 5 Apr, 2016 20:47
Edited time: 7 Apr, 2016 15:25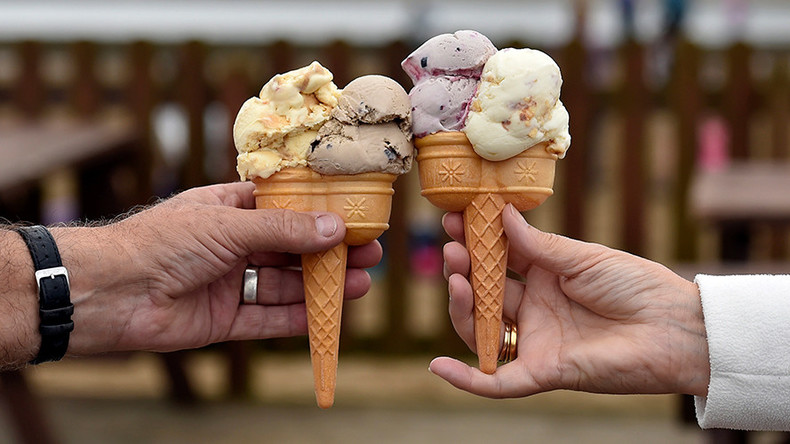 An ice cream parlor in the capital of Iceland has come up with a business idea mocking their Prime Minister's allegedly illegal business strategies. The cafe is offering its customers a frozen dessert inspired by the Panama Papers offshore info leak.
"It's very acidic and packed with pride and excuses," the Valdis cafe wrote on its Facebook page, sharing an image of what looks like a mix of two tastes of sorbet and ice cream, with a touch of lemon.
The vendor decided to call the new ice cream "Wintris's," referring to the name of the company which, according to the leaked documents, was secretly set up and co-owned by Iceland's prime minister, Sigmundur Davio Gunnlaugsson, on the Caribbean island of Tortola in the British Virgin Islands.
Excited Facebook users are seemingly keen on idea, with many suggesting in comments that they are going to try it. "Was waiting for this," one commentator wrote, while another one wondered if the dessert had been "imported from Tortola."
READ MORE: Panama Papers leak leads to 'largest protest' in Iceland's history (PHOTOS, VIDEOS)
The ice cream sellers say they are also offering tax incentives on this product.
"Are you having it for sale until the next parliamentary election, or do you think it will run by the time?" one Facebook user asked.
Thousands of protesters gathered outside Iceland's parliament in Reykjavik on Monday, after the country's PM's name appeared on a list of world leaders who allegedly have offshore holdings. Although, at the time, the politician said he wasn't "going to quit because of this matter," he is reported to have offered his resignation on Tuesday.