Panama Papers leak leads to 'largest protest' in Iceland's history (PHOTOS, VIDEOS)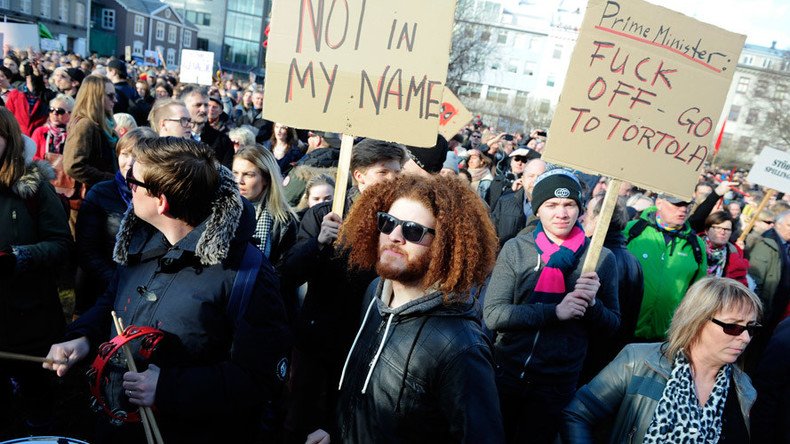 Thousands of people have taken to the streets of Iceland's capital, Reykjavik, outraged by their Prime Minister's alleged offshore accounts that were brought to light in the so-called Panama Papers.
Icelandic Prime Minister Sigmundur David Gunnlaugsson reportedly failed to declare his stake in an offshore company based in the British Virgin Islands. The revelation has made Icelanders "mad" at their government, with some demanding a no-confidence vote and the PM's resignation.
Banners reading "Elections Now" could be seen in the capital, Ice News reported, adding that other posters around the city encourage drivers to honk their horns in protest.
Over 10,000 Facebook users expressed their intent to attend Monday's protest in Reykjavik. "Over 22,000 protesters [were] confirmed in the square" as the demonstration near the Parliament building grew, reports on Twitter suggested.
Whistleblower Edward Snowden suggested in a retweet that the protest might be the "largest by percentage of population in history."
According to the Iceland Monitor, people were angered not only by the revelations of their PM's unreported accounts, but also by his reaction to the protest. "It's not like everyone is going to attend," Gunnlaugsson said in an interview, sparking even more fury.
When asked by the reporter of Icelandic Channel 2 News if he had, at any point, considered resigning in light of the latest revelations, Gunnlaugsson said that he would not resign due to this or any other matter, because his government had achieved "amazing results in very important issues," and "it's important that it gets to finish that work."
He also rejected an idea of stepping aside during the course of the investigation, saying "Simply accusing someone of something in order to force them to resign is not in harmony with how we want our society to function."
Responding to the accusations against his wife, Anna Palsdottir, the PM stressed that she had always paid taxes in Iceland, even while owning a "foreign" company. According to Gunnlaugsson, it would be wrong to label the firm an "offshore company," as "it has always been taxed in Iceland."
There have been a number of online streams broadcasting the Reykjavik protest, but some were cut off as "the networks are overloaded," some users reported. One Periscope transmission suggested that the gathering was "one of the biggest in Icelandic history," while other users commented, "Icelandic people always make me proud," "Well done Iceland, leading the way," and even calling the Nordic country "the hope of mankind."
Documents known as the Panama Papers were published on Sunday. Said to be "the largest leak in offshore history," the data claims to reveal the offshore holdings of over a hundred international politicians and public officials, including 12 current and former world leaders.
READ MORE: Panama Papers: German paper publishes 'biggest leak in history' on corruption
You can share this story on social media: