Syrian Army seizes high ground, prepares to retake Christian minority town from ISIS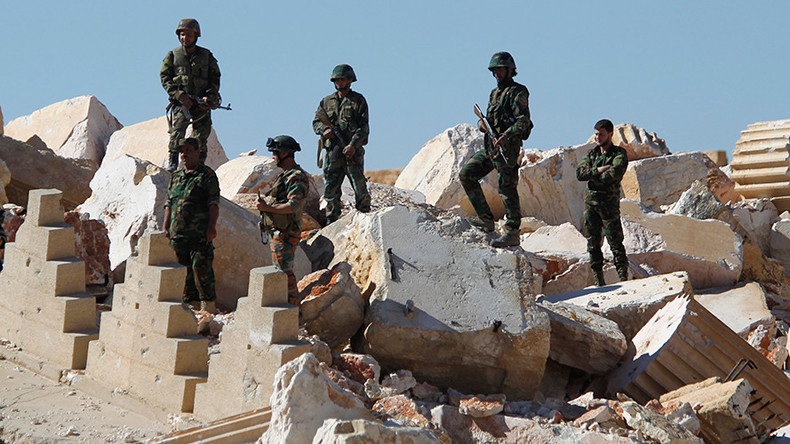 After the liberation of Palmyra the Syrian Army, backed by National Defense Forces, is pushing on to recapture the strategic town of Al-Qaryatayn – the home of a large Christian minority, which has been under Islamic State terrorists' control since August last year.
By the end of Saturday, after fierce fighting with jihadists, the Syrian army managed to capture the Suniyat-Homs mountain range, that lies two kilometers away from the strategic town in the Homs countryside. Al-Qaryatayn will become a major strategic loss for Islamic State (IS, formerly ISIS/ISIL) because of the town's location along the Damascus-Homs highway.
According to social media reports, the elite army units have now secured at least five neighborhoods on the city border. Syrian army divisions 11 and 18 have now reportedly started approaching the town from the south, southeastern and northwestern directions.
عاجل وهااام ريف حمص

قوات النخبة في الجيش السوري سيطرة ع خمس احياء الأولى من مدينة القريتين وسط هروب جماعي لمسلحي داعش' باتجاه ريف دير الزور

— محب للجميع (@aali4573) April 2, 2016
The army's ground offense is being aided by the aerial bombardment of terrorists' targets carried out by Syrian and Russian warplanes. According to Syrian officers who have spoken with RIA, over 30 militants have been killed, while at least seven personnel were injured.
The army's engineers are now seeking out explosives and mines left behind by ISIS. The storming will be impossible until all roads that lead to the city are cleared. For now the artillery are shelling targets of the outskirts of the town, from the liberated mountain range where the heavy military hardware and the bulk forces are now concentrated.
IS captured the town last August. Immediately after the terrorists established control of al-Qaryatayn, they abducted some 230 civilians, including at least 60 Christians. In late August IS released images showing their demolition of 1,500 years old Monastery of St. Elian.
READ MORE: Palmyra mass grave: Tortured women & children among dozens of ISIS victims unearthed by Syrian Army
According to reports the jihadists have imposed the so-called Dhimma rules on Christians in al-Qaryatain, under which IS offered the right to live, provided that they follow strict Islamic rules, and pay tax.
Al-Qaryatain had a pre-war population of around 18,000, predominantly Sunni Muslims, Syriac Catholics and Orthodox Christians.