Turkey builds first migrant centers, as Germany braces for new arrivals under EU-Ankara deal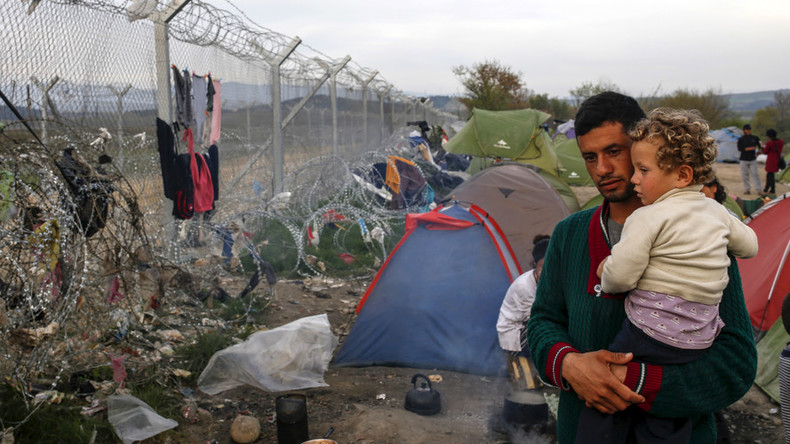 The tentative EU refugee-exchange deal with Turkey is soon to take effect, as the Germans are set to take in their first refugees and the Turkish race to build emergency accommodation for the thousands about to be sent back from struggling Greece.
Once the procedure starts on Monday, Germany will expect new Syrian families with children numbering in the "double-digit range," German Interior Ministry spokesman Tobias Plate told reporters on Friday.
The agreement has faced both criticism at home in Germany and an overall mistrust from the international community that Turkey could be considered a 'safe third country' for refugees to return to, stemming primarily from the country's human rights record and treatment of minority ethnic groups.
Under the proposition agreed last month, the EU will legally settle one Syrian in return for each migrant the over-strained Greece sends back to Turkey. All illegal migrants who have come to the Greek islands since March 20 will be sent back, although cases will also be considered individually.
In return Turkey is to get billions of euros in aid and political concessions from the EU.
Turkey is currently working on two centers for processing refugees, local officials said on Saturday. One is being constructed in the Aegean tourist resort of Cesme in Izmir province, which faces the troubled Greek island of Chios. The work includes laying hundreds of meters of cable, as well as installing fingerprinting and registration facilities and medical ones. The centers are only a stopover point on the way to actual refugee centers.
"Once the health checks and registration is done for the migrants, they will be sent on to camps," Cesme Mayor Muhittin Dalgic told Turkish media, as cited by AFP. "We intend to complete this work with them staying for as short a time as possible."
A re-admission center is also being constructed in Dikili, which faces the Greek island of Lesbos, and a new refugee center will be opened by the Turkish Red Crescent in Manisa – the first facility in the south of the country.
Meanwhile dozens of protesters gathered on Ataturk Square in Dikili on Saturday to express their opposition to the planned building of the refugee camp.
Places like Greece are experiencing the hardest fallout. Violence recently broke out in a Greek camp that has taken on one of the central roles in the crisis. Three migrants were hospitalized in a fight on Friday at a camp on the island of Chios, aid groups reported. This was the second time in two days. Violence was so rough that volunteer workers and organizations were pulling their staff out amid concerns for their safety.
Frustration is simmering among the refugees and migrants who don't know where they will be sent. In line with earlier fears voiced by EU politicians, Greek migrant centers have begun to resemble detention facilities, with Greece tightening the grip on people's freedom of movement until they are sent back to Turkey.
Turkey is to receive its first batch of migrants from Greece on Monday. Both countries are receiving criticism for their lack of preparedness.
The chaos in the Greek camps happened at the same time as Amnesty International was condemning Ankara for sending back hundreds of refugees to war-torn Syria – something the NGO said represented "the fatal flaws" inherent in the deal struck with the EU.
The plan appears to be going according to earlier predictions: not only are refugee rights being violated, but migration routes are also splitting up, with many illegal streams of people attempting to get back to the EU with the aid of smugglers.
Turkey, which has taken in 2.7 million Syrians since 2011, has always sharply denied repatriating them illegally. However, Ankara is yet to comment on the latest accusations from Amnesty.
Over 51,000 continue to be stranded in Greece. More than a million arrived from Turkey last year. As Athens struggles under the sheer weight, hundreds have been drowning in the Aegean Sea on the way from Turkey.