RT at infowar with UK? Damning report submitted to British parliament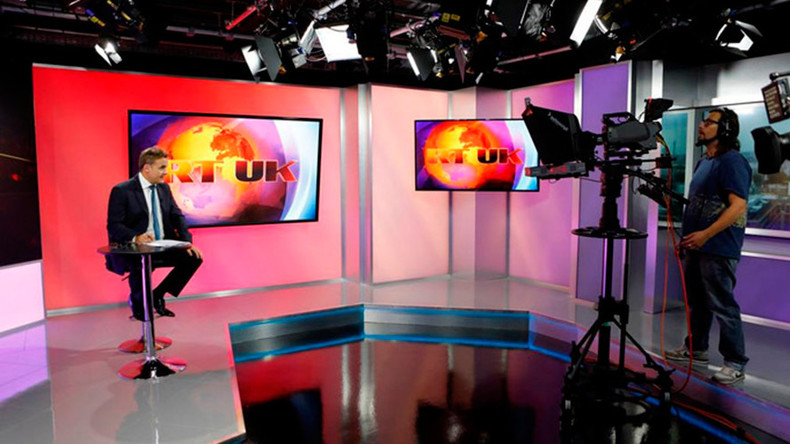 British security experts claim that Russia is using RT to engage in information warfare against the UK and West in general by covering stories and airing political opinions overlooked by mainstream Western media.
The report submitted to the British parliament and published last week was penned by Ben Nimmo, a senior fellow at the Institute for Statecraft in London and former NATO press officer, and Jonathan Eyal, who is International Director for the Royal United Services Institute, an influential security think tank with close ties to the British aristocratic establishment and the Ministry of Defense.
The authors say that RT and the Sputnik news agency are influencing the political discourse in the UK in a negative way on matters like Scottish independence,a potential EU exit and the Trident nuclear program. This is done by giving too much airtime to people, who are not supporting the British government's position on those issues, or, as the report describes it, "airbrushing reality".
"Objective reality – the actual relationship between majority and minority, mainstream and fringe – is systematically replaced by a pseudo-reality in which minorities who echo the Kremlin's strategic priorities are presented as the majority, and the genuine majority is presented as a fringe, if it is presented at all," the report states, apparently implying that non-mainstream minority opinions are not worthy of reporting.
The experts went on to say that when Moscow voices its concerns over things like NATO's enlargement towards Russia's borders, the roles played by Western nations in crises in Ukraine and Syria, or the tension caused by EU's open door policy towards asylum seekers, it is using "fundamentally, if not irretrievably flawed" arguments.
"It would be wrong to dismiss these efforts as another self-defeating attempt by a declining power to cause mischief. For the mischief which Russia's propaganda machine can create remains substantial, and it has already scored some notable results," the report warned.
RT has been targeted by many Western politicians, who have labeled it a "propaganda bullhorn", to quote US Secretary of State John Kerry. The perceived threat posed by Russia has become a convenient way to defend one's policies, for example for UK Prime Minister David Cameron, whose government argued that Russian President Vladimir Putin "would most love to see Britain leave the EU."
The argument was debated by several commentators, who said that the West should learn to live in a world, where it cannot control the narrative as well as it used to.
"Freedom of speech and freedom of the press is obviously an imminent danger to NATO, EU and the home of government sponsored news, the United Kingdom," Willy Wimmer, former State Secretary in Germany's Federal Ministry of Defense, told RT.
"The United Kingdom spends every year hundreds of millions of British pounds to finance the British tool of influencing world opinion, the BBC. In modern times we all know where it leads to," he added. "Since the illegal wars against Yugoslavia, Afghanistan, Iraq, Libya and Syria, they hammered for war, bloodshed and hostility as they did throughout their existence."
"Russian news services are part of our European reality. Because of their pure existence, we have plurality in our public debates and plurality is the center piece of democracy, which is ruined today by the mainstream press in Western countries and the ruling forces," he argued.
The accusations that RT is meddling in Britain's internal affairs are "stunningly impudent" coming from British authors, said Gilbert Doctorow from the American Committee for East-West Accord.
"If it were true, that would merely be a mirror image of what the UK and the US governments have been doing to foment regime change in Russia these past fifteen years directly through their diplomats' dealings with opposition personalities and indirectly through the mainstream media which is hand fed by the UK and US governments," he said.
"It is highly improbable that the Kremlin has stirred up these muddy waters in the UK," he added.
"Allocation of responsibility using the principle of cui bono here is irrelevant when you consider the breadth and depth of the forces in UK society that are engaged on both sides of all three issues highlighted by the authors of this report."
"No television media outlet is perfect just like no politician is perfect, but I certainly appreciate the new perspective that RT brings to us in the UK," agreed British MP Daniel Kawczynski.
"Along with other Conservative MPs, I have had long standing profound concerns about the impartiality of the BBC. These concerns are exacerbated by many examples of highly inaccurate reporting by this organization," he added. "I am only grateful we are now entering an era where we all have the opportunity of tuning in to a wider range of news channels in order for us as individual citizens to make up our own minds."
The report's authors' positions in judging RT's intention and professional integrity were questioned by John Laughland from the Institute of Democracy and Cooperation.

"Neither Nimmo nor Eyal has any independent professional background outside the military organizations for which they work. In spite of his claims to have worked as a journalist, Nimmo has no detectable journalistic portfolio; Eyal has spent over 20 years at RUSI after a very brief academic career and he has no independent or authoritative books to his name apart from RUSI publications," he wrote in an op-ed for RT.
"Instead, both authors have in the past misjudged and misrepresented the actions of the Russian state, such as when in March 2015 Ben Nimmo argued that Russia was about the invade the Baltics."
Former UK Ambassador to Syria, Peter Ford, believes that the presence and influence of the mainstream media is way too strong to claim that RT is engaged in information warfare against the West.
"The two authors do RT too much honor. If RT does manage to restore some much-needed balance to visual media coverage of issues like the Brexit, immigration and Syria, that balance is still weighed down mightily in the supine mainstream media with the viewpoints favoured by the Washington, London and Brussels establishments. Moreover RT, unlike the mainstream media, is not afraid to report on criticism of itself for bias."
Commenting on the report, Sergey Zheleznyak, the deputy head of the State Duma and a member of the Duma's Committee on Information Policy, Information Technologies and Communications, told RT that "the ever growing audience of RT and Sputnik demonstrates that the Europeans and the British want to get this unbiased information [presented by the Russian media]."
Addressing the issue of alleged disproportionate coverage of certain politicians and experts by RT and Sputnik, Zheleznyak stressed that this problem is rooted in the fact that by no means all British politicians, particularly pro-US and pro-European ones, are ready to present their position to the Russian media, thus limiting the journalists' options in "working with those experts and speakers that are ready to cooperate."
Aleksandr Romanovich, the deputy head of the State Duma's Foreign Affairs Committee, denounced the report as "unjust" and said that it is part of a political game of the British authorities.
"I regard this report as another instance in a series of provocative actions," he told RT adding that "it is them [the Western countries] who declared an information war."
Both Russian media and Russian politicians have never set a goal of changing a political regime in any other country, Andrey Klimov, a member of Russia's Federation Council, told RT.
"The Russian Federation does not export ideology or revolution ... in any form. This is one of the founding principles of the Russian foreign policy," he said.
Former UK MP and senior research fellow at the UK Defence Academy, Matthew Gordon Banks, believes that Nimmo's paper was a "great disappointment" which amounts to little more than the "pot calling the kettle black".
"They claim Russia is conducting a coordinated but undeclared information campaign against the United Kingdom and blame state funded Russia Today, RT, forgetting the BBC is a public broadcaster, and denigrate unnecessarily the excellent coverage in UK of RT, of international issues frequently ignored by the BBC and other UK broadcasters," he told RT.
"In my view there is a concerted effort by the UK and US governments to undermine Russia," Banks added. "It is time they worked for better relations with Russia, who has merely sought to put across its own point of view on matters such as NATO expansion, rather than talking up a new Cold War, quite unnecessarily."