'Eviction season' in France begins, leaving up to 40,000 homeless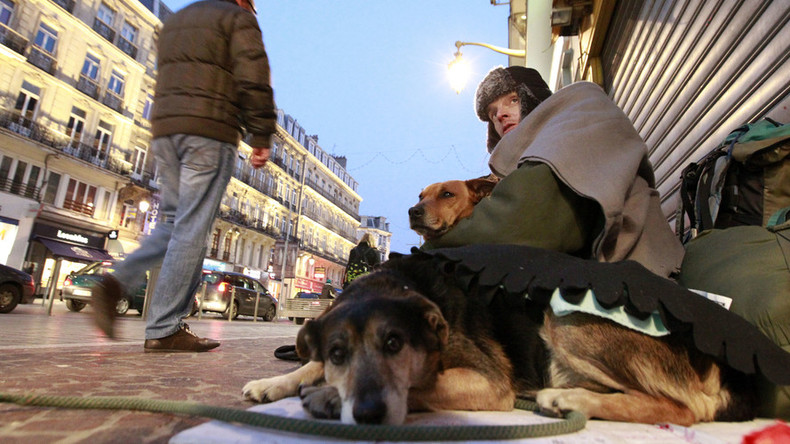 Thousands of people could be left homeless across France under the so-called "eviction season", ending a five-month "truce" where landlords were prevented from evicting their tenants during the winter months.
Eviction News Why are 40000 people set to be made homeless in France?: La trêve hivernale runs for five months... https://t.co/FnFOquX6Kr

— Kyle Ransom (@fightthelender) April 1, 2016
Known as la trêve hivernale, which translates to "the winter break", the law was implemented November 1 last year and protected tenants from being evicted or having their gas and electricity cut by landlords.
The rules, however, were temporary.
As of April 1, police and bailiffs will be able to carry out evictions backlogged from the winter months, leaving thousands of families vulnerable in the country's poor economic climate.
Twitter users in France were quick to condemn the controversial eviction rules.
Fin de la trêve hivernale, le gouvernement mobilisé: + de places d'hébergement et 1 plan de lutte contre les expulsions locatives #directAN

— Emmanuelle Cosse (@emmacosse) March 30, 2016
The truce was supposedly a humanitarian move by the government to ensure people were not sleeping rough during the cold winter months.
Housing charity Fondation Abbé Pierre called the rules "heavily aggravated".
"Faced with such a worrying economic situation, we expect the government to strengthen prevention devices," the charity said in a press release. "But the state has chosen to increase, harden and ignore associative demands including that of a moratorium, continuing a grotesque policy."
READ MORE: America, we have a problem: Homelessness is out of control
In the US, Cook County operates a short-term moratorium on evictions between December 18 and January 2, but this doesn't protect tenants for the entire duration of winter.
The policy comes from the same frustrated sheriff, Tom Dart, who refused to conduct (what often turned out to be illegal) foreclosure evictions after the 2008 financial meltdown.
READ MORE: Cop plays hopscotch with homeless girl after rich neighbors snitch on her 'suspicious' behavior
Such scenes were depicted a generation ago in Michael Moore's seminal documentary Roger & Me, which cut between a fancy General Motors Christmas party and a sheriff's deputy in Flint, Michigan evicting a family during the holidays.
And for those wondering, yes, it's the same Flint that's making headlines for all the wrong reasons this year.
READ MORE: Michigan residents begin recall petition drive against Gov. Snyder over Flint water crisis