Biden pledges Ukraine additional $335mn in military assistance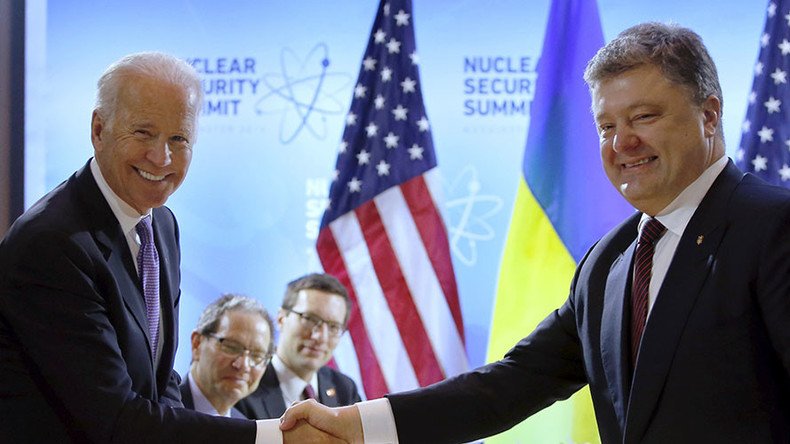 The US has promised Kiev an additional $335 million in security aid to help Ukraine boost its military strength. Washington also made it clear to the Ukrainian president that to unlock the next tranche of IMF money, Kiev should push ahead with political reforms.
US Vice President Joe Biden held a luncheon with Ukrainian President Petro Poroshenko, who is currently visiting Washington as part of a nuclear summit comprising more than 50 world leaders. Poroshenko seized the rare opportunity to touch base with Obama administration officials.
According to an official statement on Poroshenko's website, Biden has indicated Washington's readiness to provide Kiev with additional $335 million in security assistance, which would be used to reform Ukraine's Armed Forces, National Guard and border control.
Last year, the House Armed Forces Committee suggested providing some $300 million aid on the Ukrainian government and offered to "provide appropriate security assistance and intelligence support, including training, equipment, and logistics support, supplies and services, to military and other security forces."
READ MORE: Obama signs NDAA, approving $800 million aid to 'moderate' Syrians, Kiev
At the same time, Kiev also heavily relies on a financial assistance from the International Monetary Fund (IMF). Having received $6.7 billion from the fund's $17.5 billion bailout package in 2015, the third tranche has now been stalled.
Plagued by corruption and deep political crisis, Kiev has been failing to fulfill reforms to unlock the next tranche of the loans worth $1.7 billion. To secure its lenders' confidence, Ukraine must implement reforms and made scant progress in stamping out corruption.
Meeting with Poroshenko Thursday, Biden reminded that Kiev would not receive international economic assistance unless it forms a new government, "oriented on reforms and cooperation with the IMF," Poroshenko's office said.
For his part, Poroshenko responded that setting up "an effective anti-corruption system" was his government's priority.
READ MORE:Biden: 'More time talking to Ukraine president than my wife'
Ukraine's corruption was one of the main topics of Biden's trip to Kiev in December 2015.
"Corruption siphons off resources. We know this. You know this," he told Ukrainian MPs, saying that "corruption eats Ukraine like cancer." At the time, he assured Kiev of the Washington's support and announced allocation of additional $190 million from the US budget to help conduct structural reforms in Ukraine and fight corruption in the first place.
While in Washington, Poroshenko also tried to lure more investment to his country's economy while meeting with US Secretary of Commerce Penny Pritzker.
You can share this story on social media: