Biden: 'More time talking to Ukraine president than my wife'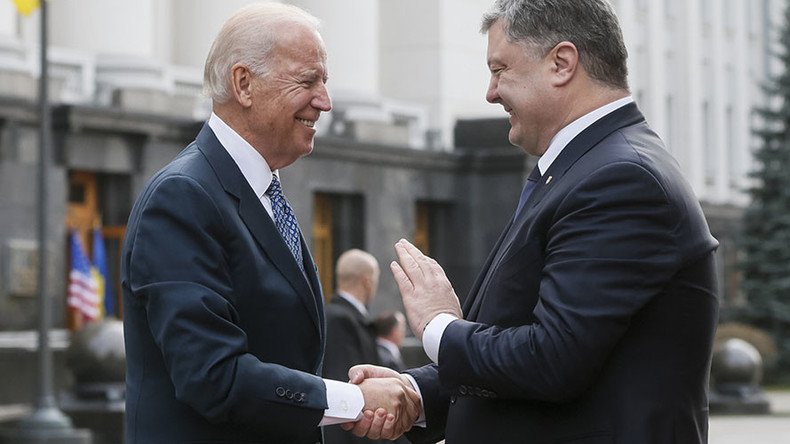 Joe Biden's been clocking in a lot of phone hours lately, but they aren't to his wife. Instead, the US vice-president said during a two-day visit to Ukraine that his main squeeze has taken a backseat to Ukrainian President Petro Poroshenko.
"It is true I've only been here four times in two years. But I think we may have logged close to 1,000 hours on the telephone. I think I tend to be more in direct conversation for longer periods of time with the president than with my wife. I think they both regret that. But it is important," Biden said at a joint briefing in Kiev on Monday.
Biden did, admittedly, have more to share than his time spent chatting to his buddy Poroshenko. He also said that "Ukraine is on the cusp."
"What happens in the next year is likely to determine the fate of this country for generations. You have a free, prosperous and democratic society because your people are so brave, they have put so much into this, they deserve no less, and I know this is your obligation and objective as well, and we want to help in any way we can," he said.
Biden went on to once again slam what he called Russia's "illegal annexation" of Crimea and "aggression from Russia and Russian-backed separatists."
The vice-president announced $190 million in new aid for Ukraine, contingent on Kiev continuing to make progress on rooting out corruption. The newest aid is aimed at helping law enforcement, reforming the justice sector and streamlining regulations and privatization of state-owned enterprises, Biden said. The new funds bring US assistance to nearly $760 million since the formation of the new government in 2014.
Biden's two-day visit to Ukraine is aimed at reassuring Kiev that Washington won't skimp on its commitment to Ukraine at a time when attention has shifted to Syria and fighting Islamic State (IS, formerly ISIS/ISIL).
You can share this story on social media: