Yoga, foreign languages & anecdotes: Viktor Bout marks 8yrs in US high-security prison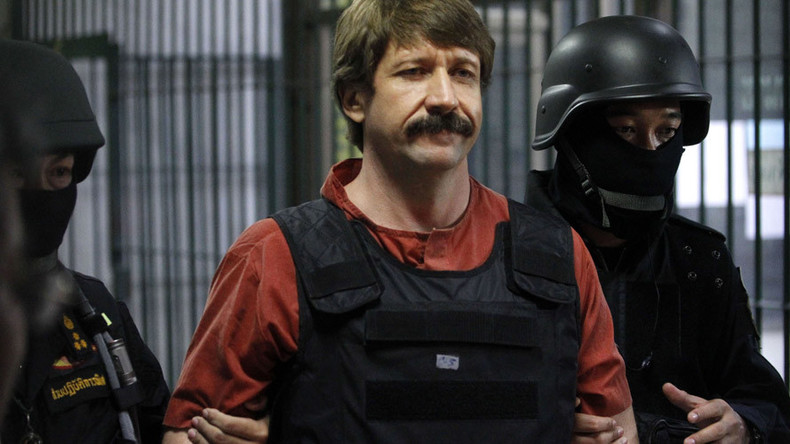 Avoiding depression and keeping in good shape are the key to survival in a top security American prison, says Russian businessman Viktor Bout, who was extradited to the US and later sentenced to a 25-year prison term, despite Russia's belief his case is political.
Russian citizen Viktor Bout was arrested in Thailand in 2008 after a sting operation by US agents. He allegedly admitted in a conversation that it was theoretically possible for a foreign terrorist group to purchase anti-aircraft weapons.
In 2010 Bout was extradited to the United States, and one year later was convicted of conspiracy to kill US citizens. The allegations were based on the idea that guerrillas of the Revolutionary Armed Forces of Colombia (FARC) could in theory have been the buyers of the weapons he could reportedly sell. The United States ranks FARC as a terrorist organization.
In April 2012 the businessman was sentenced to 25 years behind bars and placed in a top security prison.
This March signals eight years since Bout's arrest in Bangkok.
Russia called the judge's decision in October to refuse Bout's retrial plea "regrettable," and proof the probe and trial were politicized from the very beginning.
"This is yet another regrettable decision. As far as we know the defense lawyers have prepared a solid base of materials to ask for a retrial, they had serious arguments. The fact that the court ignored them again surely is a proof of our understanding that Viktor Bout's case has been politicized by the American side from the very beginning," Russian Foreign Ministry human rights envoy Konstantin Dolgov told TASS.
'A sound mind in a sound body'
RIA Novosti contacted Bout via phone for a rare interview to share his experience of serving a term in an American top security prison.
To remain in good physical shape, Bout practices yoga every morning and does high-intensity interval training during the day. The only alternative to keeping fit is falling into depression, which would result in being prescribed pills by the prison authorities, Bout told RIA Novosti's Evgeny Belenky, who was among the first journalists to contact him in 2008.
Bout continues studying foreign languages such as Turkish, Arabic and Farsi, but he has problems with obtaining new books and lacks mother-tongue speakers to practice with.
He reads any book he can lay his hands on and is free to communicate with anybody in his block from 6am to 10pm, yet, naturally, there are certain communication problems.
"It's kind of an endless submarine independent cruise here, with the difference that the crew has been picked up randomly, without considering psychological compatibility and other subtleties," Bout said, adding that sometimes it takes days before he can get out of his cell and talk with someone.
Unlike America's medium-security prisons, the jail where Bout is serving his term does not allow visits or team sports. He tells anecdotes from the Russian media he receives to entertain inmates he is on friendly terms with.
"Everything is in our hands, the environment is neutral, even in the communications control block of a top security prison," Bout said. "There is a saying that hell and paradise do not relate to geography, but to psychology. My motto is: any hell we turn into paradise."
Bout says you can help keep depression and pessimism away by beginning the day with a couple of good anecdotes and yoga, together with physical training and personal mind control. "Your glass is always half-full, not half-empty," he says.
Being a vegetarian, Bout finds it difficult to feed himself in a prison which has no alternative for those who don't eat meat. Only once, when he complained about his vegetarian diet, did he get boiled beetroot, but the rest of the time he is fed like everybody else.
'Where does the money go?'
Bout says that according to open US Congress sources, a maximum-security prison like the one he is in spends $981,000 a year from the US budget on every prisoner – a sharp contrast to the $34,000 needed to keep a man locked up in an ordinary prison. He believes that for that money, the prisoners could have decent food and vegetarians could be given a separate menu, yet inmates get food that leaves much to be desired and "nobody ever investigated" why the cost is so high.
According to Bout, the prison he is serving his term in was built back in 1963 and has not been renovated since, and as a result is "in bad shape."
However strict the conditions of a top security prison are, Bout remains full of optimism.
On Tuesday, Kremlin spokesman Dmitry Peskov criticized the detention in the US of people like Viktor Bout and Konstantin Yaroshenko, a Russian pilot sentenced in 2011 to 20 years in jail for allegedly participating in a plan to smuggle drugs to the United States. Peskov said the Russian government regards such actions as an attempt to project American jurisdiction to the rest of the world.
"It was exactly in this context that these names [of Bout and Yaroshenko] were mentioned in the talks with [John] Kerry," Peskov said, speaking about the head-to-head talks Russian President Vladimir Putin had with the US secretary of state this week.
You can share this story on social media: