PKK fighters kidnap ruling party official in southeast Turkey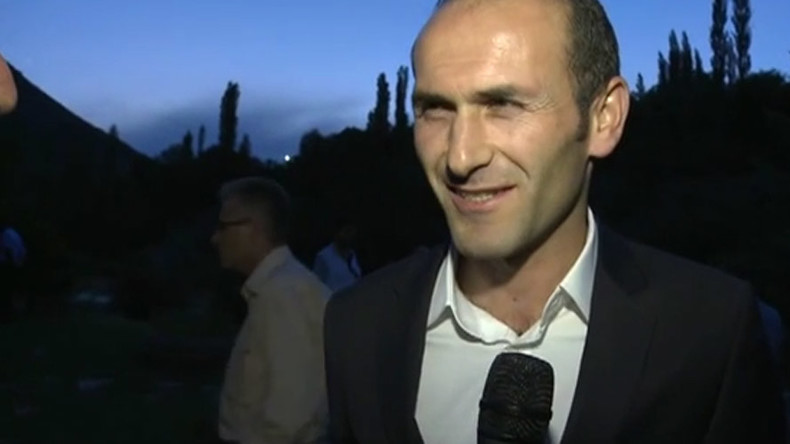 Fighters from the Kurdistan Workers' Party (PKK) have kidnapped Salih Zeki Cetinkaya, a leading official from the Justice and Development Party (AKP), formerly led by President Recep Tayyip Erdogan, according to a party official.
Cetinkaya, the Ispir district head of the AKP, was abducted earlier on Tuesday while on his way from Erzurum to Sanliurfa province in Turkey's southeast after his car was stopped by PKK members in the town of Lice in Diyarbakir and it was revealed that he is an AKP member.
"The kidnapping occurred as Cetinkaya was traveling with his brother and another person from Erzurum to Sanliurfa," said the party's Erzurum district president, Fatih Yesilyurt, as reported by Anadolu news agency.
"The [fighters] released Cetinkaya's brother and the third person, taking Cetinkaya with them. Cetinkaya's brother and the third person are at the Duru Gendarmerie Station of Lice town in Diyarbakır province," he added.
Yesilyurt said that Prime Minister Ahmet Davutoglu and the interior minister have been notified about the incident, adding that search and rescue operations have been launched.
According to Anadolu news, the PKK made a statement about the incident.
Meanwhile, on Tuesday the US ordered its Defense Department representatives and their families who are currently in southern Turkey to leave "due to continued security concerns in the region."
READ MORE: Kurdish crackdown: Is Turkey at war with its minority?
Turkish security forces have been conducting a massive crackdown on predominantly Kurdish areas in the country's southeast, imposing indefinite curfews in many Kurdish districts and waging battles against PKK fighters, who are considered terrorists by Ankara.
These areas are under a government lockdown, with the Turkish government preventing foreign journalists or inspectors from assessing the situation on the ground. Pro-Kurdish activists have accused Turkish forces of numerous violations of human rights, including extrajudicial killings of civilians, torture and other crimes.
The hostilities have led to large numbers of civilian casualties. According to the International Crisis Group, some 900 people, including at least 250 civilians, were killed in Turkey between July 2015 and March 2016.
The Turkish government, however, insists that it is doing what is necessary to stop terrorism. On Monday, Erdogan claimed that Turkish security forces have neutralized 5,359 militants from the PKK within the country and beyond its borders since July 2015.
"Since the beginning of the anti-terror operation in July last year, we lost 355 people to date - including 215 soldiers, 133 policemen and seven security guards, but we will not leave the shedding of the blood of our heroes unpunished. During the same period within the country and abroad we neutralized, injured or captured 5,359 extremists," Erdogan said while speaking at a military academy, as reported by Anadolu news agency. He added that Ankara will continue its crackdown on the PKK.
There has been an escalation of violence and "clear use of heavy weaponry" in residential areas, Andrew Gardner, a Turkey expert with Amnesty International, told RT earlier in March.
RT has launched a petition under the hashtag #JusticeForKurds, calling for a UN Human Rights Council-led investigation into claims of the alleged massacre of Kurdish civilians.
"RT traveled to Cizre to get first-hand accounts from witnesses. They showed us the site of the alleged mass killing. RT filmed the destroyed buildings, including bloodstains on the debris, and shell casings. A witness told us that among the victims were women, and children as young as 10 years old," the petition states.
After the Russian Foreign Ministry examined the materials provided by RT, Foreign Minister Sergey Lavrov sent a letter to the high commissioner for human rights. A Foreign Ministry spokeswoman has said that this should not be ignored.
You can share this story on social media: