Clashes erupt between refugees, riot police at Greece's Idomeni camp (VIDEO)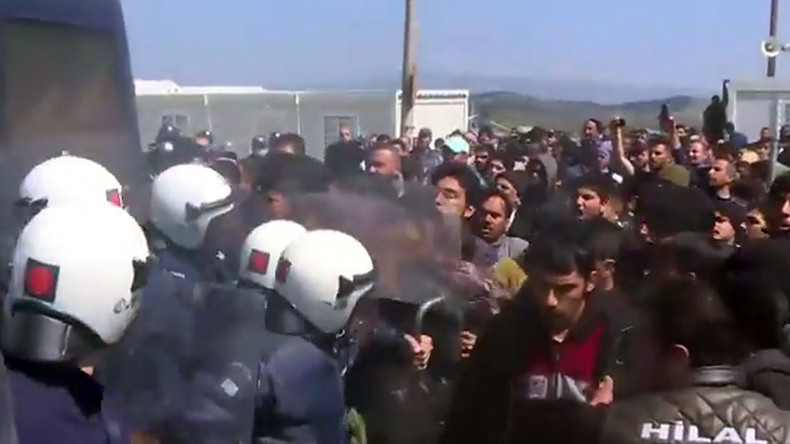 Clashes have broken out between police and asylum seekers at Idomeni refugee camp in Greece, where over 11,000 people have been stranded since Balkan countries shut down their borders in late February.
Video footage from Ruptly shows police in riot gear lined up at the camp, with one officer pushing a refugee who angrily shouts at the policeman.
Crowds of refugees can also be seen making their way towards a police line, eventually shoving the officers, who push back with their riot shields and batons.
An estimated 11,500 people have been stranded at the camp after Balkan states closed their borders, cutting off the main refugee route to the European Union.
Camp residents are living in squalid conditions as they await their fate. The camp has been described as a "modern Dachau" by Greek Interior Minister Panagiotis Kouroumplis.
On Sunday, residents were given false hope that the Greek border with Macedonia would be opened.
The optimism appeared to have been triggered by rumors that journalists and Red Cross officials would help refugees force their way across the fence into Macedonia, a Syrian refugee told Athens News Agency (ANA).
The news led to around 300 people gathering by the railway tracks and border fence in a largely peaceful demonstration observed by Greek police in riot gear, AFP reported.
However, their hopes of leaving the camp were dashed when Greek officials announced on loudspeakers that the crossing would remain closed.
The Balkan countries' border closures have created a build-up of around 50,000 migrants and refugees in Greece.
The European Union reached a deal with Turkey earlier this month, which will see all illegal migrants reaching Greece from Turkey being sent back. In return, the EU will take in thousands of Syrian refugees directly from Turkey.
It comes as Europe continues to face the biggest refugee crisis since World War II, with over a million migrants arriving on the continent last year. Most refugees come from Syria, where a civil war has killed 250,000 people and displaced more than 12 million since 2011, according to UN figures.