'Modern Dachau': Greek minister slams conditions at Idomeni refugee camp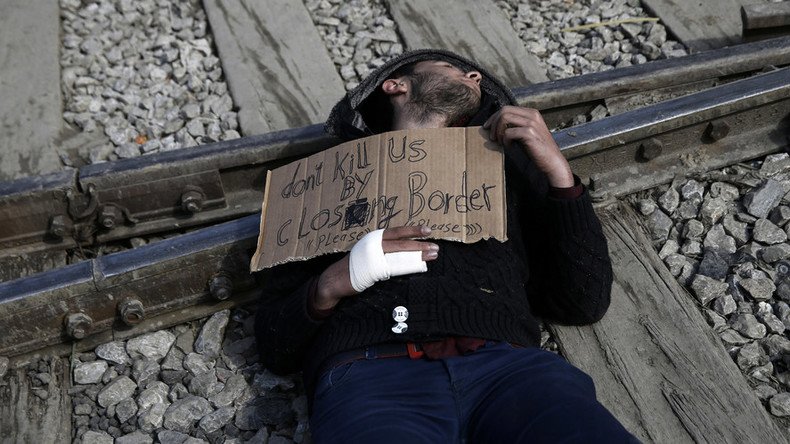 Greek Interior Minister Panagiotis Kouroumplis compared the Idomeni refugee site on the border between Greece and Macedonia to the infamous Dachau concentration camp while on a visit.
"I wouldn't hesitate to say that this is a modern Dachau," Kouroumplis said during his visit to the camp where thousands of people live in improvised tents, deprived of basic necessities, on Friday.
Idomeni "is a logical result of closed borders," he said, adding that Greece "believes in Europe without borders."
Two improvised camps, hosting over 15,000 migrants, sprung up near the Idomeni crossing in late February after the Macedonian authorities closed its borders amid a massive refugee crisis in the EU.
Kouroumplis expressed regret over "the awakening of a kind of nationalism against the persecuted people" in Europe.
He acknowledged that accepting 1.5 million migrants in no easy task, but said that the people stuck at Idomeni "didn't leave their countries by choice, but were forced to flee by wars, in which Europe also participated."
The minister praised the efforts of the Greek police in maintaining order at the camp as well as NGOs and ordinary citizens, who helped the migrants.
He also promised that vaccinations are to start at Idomeni next week to ensure the health of the inhabitants.
READ MORE: EU, Ankara agree deal to return migrants sailing to Greece back to Turkey
Dachau, located about 10 miles from Munich in southern Germany, was the first concentration camp opened by the Nazis in 1933, and was originally purposed for political prisoners.
During the 12 years of its operation, more than 200,000 people from across Europe were held there. Over 30,000 prisoners died at the camp, according to the documents, while thousands more deaths are believed to be undocumented.
There was some good news for Idomeni inhabitants late on Friday as Turkey and EU reached a groundbreaking immigration deal.
German Chancellor, Angela Merkel, said that now – after the agreement is approved – "Greece will put asylum procedures in motion or redistribution to other European countries will take place" for the people at the camp.
She also urged the Idomeni refugees "to move to other accommodation where the conditions will be significantly better" while they are being processed.
However, the chancellor stressed that refugees won't be given the right to choose a specific EU country in which they will be settled during redistribution.
You can share this story on social media: