Flydubai scandal after crash in Russia exposes pilot fatigue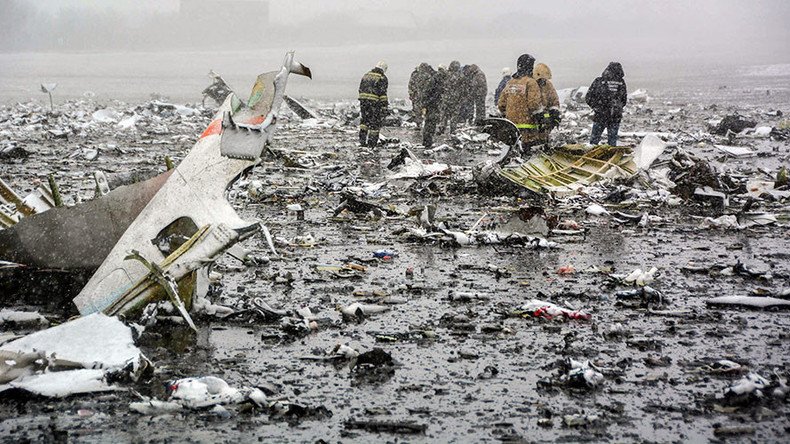 Following the Flydubai plane crash in Russia, RT has been contacted by a number of former and current employees of two UAE-owned airlines, who alleged that they are treating their pilots with negligence and may endanger passengers. RT encourages people who can shed light on the situation to write to flydubaigate@rttv.ru and tell us their stories.
28 March 2016

16:24 GMT

The International Labour Organization (ILO) could investigate accusations made by employees of the Emirates airline if an official complaint is filed to the UN agency, ILO spokesman Hans von Rohland told Sputnik news outlet on Monday.

The news comes after RT released interviews with Emirates pilots accusing the airline of deliberately miscalculating the time that a pilot spent at work, leading to increased workloads. The pilots told RT they planned to send complaints to international organizations to investigate the problem.

"No we have not received such letters [from Emirates Airlines pilots]. If a complaint arrives, it [an investigation] could be possible. But it has to be an official complaint from a trade union organization," von Rohland told Sputnik.

The spokesperson added that the International Confederation of Free Trade Unions (ICFTU) in Brussels could file a complaint on behalf of the workers.

15:29 GMT

Ray Ronan, pilot and author of 'Seconds to Disaster', a book that uncovers how current aviation practices endanger safety standards and put human lives at risk, has told RT of the conflict of interest in aviation safety regulation system and of loopholes in it that can be manipulated by airlines to push their pilots to their limits.

"There should be complete separation between the company and the regulator that directs the company towards the safety culture. There is one particular profit-driven regulator in Europe, they make profits from the companies they regulate and even call them 'customers,' which is incorrect and should not be done. If there is a conflict of interest like that it should be looked into. You can't regulate an airline through which you have an interest yourself," he said.

Ronan also pointed out that the issue of fatigue, which is difficult to prove in hindsight, is not limited to to Flydubai or Emirates – it's the direct consequence of how airlines are run.

"Flight-time limitations are being taken as a target for airlines," he explained to RT. "If you don't push your pilots to the very limits of those flight-time limitations then you're not running your airline correctly, and from an accountancy point of view – you're not maximizing your profits."

"Flight-time limitations are so complicated that you can manipulate them and change them, and you can work within the regulations, but your pilots will be tired. And if you don't have a culture or system where you listen to your pilots, this can be a big issue. The solution has to come from the very top [officials of the airline], they have to say 'I don't want my pilots flying tired,' and if that doesn't happen, the regulator has to bring in simple and clear regulations which the airlines have to stick to."

12:40 GMT

Captain Martin Chalk, airline pilot and president of the International Federation of Air Line Pilots' Associations (IFALPA), told RT that feedback between the agencies that regulate pilots' work process and the airlines is crucial for air safety and preventing emergencies, and that feedback is lacking.

"Fatigue is an insidious problem when it comes to making decisions. It stops people from making good decisions. Everyone should be concerned about fatigue in professional pilot [work]," he said. "There are regulators [who impose] rules for preventing fatigue, and every airline operator should follow those rules."

"In most countries it would be normal for [pilots] to take their problems directly to the regulator. There would be some method of applying directly to the regulator and giving them the information. Clearly, this is an area where local culture comes into play, in some countries it is more acceptable than in others," he added.

Chalk urged all countries to ensure that pilots understand that their concerns will be taken seriously by the regulator.

11:22 GMT

After a Flydubai whistleblower contacted RT, some 60 people claiming to currently or previously work for the airline contacted us with similar allegations of pilot fatigue and airline intimidation. RT has published the accounts only of those pilots whose IDs have been verified. Many pilots said they were discouraged to file internal reports, as there is usually no effective response other than occasional threatening "warnings." One of the latest pilots to speak with RT on condition of anonymity said that complaints of fatigue "end up" at the UAE's General Civil Aviation Authority (GCAA), but generate no result. He described the situation as extremely serious, given the safety risks of pilots flying while exhausted.

11:00 GMT

The Flydubai FZ981 crash could have followed the pilots' failure to manage the landing after taking control of the system, with the final minutes allegedly full of arguments and screams of terror, Russian media have revealed, citing flight data. An unnamed source has told Kommersant daily that pilot error is currently dominating the investigation as the probable cause.

25 March 2016

19:13 GMT

In order to tackle the issue of flight fatigue, Emirates has a special Fatigue Committee, in addition to its existing Fatigue Management System, the company's spokesperson told RT.

"For Emirates, the safety of our passengers and crew is and will always be paramount. Our safety record is among the top in the industry and we are renowned for our dedication to safe operations both in the air and on the ground. Our safety record is also a testament to the commitment we have to ensuring high levels of safety performance across our operations, consistent implementation of the most rigorous safety processes and procedures, as well as fostering a robust and open safety culture.

Flight fatigue is an issue we take seriously and in order to effectively manage it for our pilots Emirates has a special Fatigue Committee, in addition to our existing Fatigue Management System. This is a proactive initiative that continually assesses and takes into account a variety of criteria to make recommendations that help to mitigate fatigue for our pilots, whether they are on or off duty. If pilots feel that Emirates has not addressed their fatigue concerns, they also have recourse of addressing this with the regulator, the GCAA.

We are proud of our pilot workforce, and the vast majority of them are highly passionate about what they do. In order to ensure that we attract the best talent and retain our pilot workforce, Emirates also has one of the most competitive and generous remuneration and benefits packages in the industry."

12:02 GMT

Replying to RT's request for comments, Emirates airline denied the allegations, saying they were "based on anonymous people that we cannot confirm currently work or have worked at the airline."

"We never compromise safety and always operate within the legal regulatory requirements with regard to flying times, operating hours, and layover times in between flights for our pilots," Emirates PR Manager Rula Tadros wrote in an email. "Emirates also encourages open dialogue and has systems in place to facilitate that and in fact we have an open forum for pilots to engage with the management team to voice their concerns."

09:40 GMT

Emirates Airline replied to RT's request for comments on the allegations voiced against the company.

"...thanks for reaching out. We will have a statement for you shortly," Rula Tadros, a public relations manager with the airline, wrote in an email.

06:43 GMT

According to Air Safety Reports (ASR) submitted by Flydubai pilots, the number of fatigue incidents reported in 2015 has jumped to around 150, which is 10 times more than the average over the previous three years, RT's Paula Slier reports.

ASRs are filed to the management of an airline to track flight safety, but some Flydubai employees told RT that those fatigue reports are just being ignored.

05:17 GMT

Following the Flydubai scandal, pilots with Emirates Airline, the largest in the Middle East, told RT that the company is allegedly cheating on pilot schedules by illegally prolonging work hours and intimidating them from reporting feeling sick or tired.

All of the pilots from the Dubai-based carrier that reached out to RT by phone or email did so on condition of anonymity. Some said they literally fear for their lives, as people can "disappear" in the UAE.