No mention of Assad's fate in Mistura's 'basic principles' for Syria solution – report
Published time: 24 Mar, 2016 19:49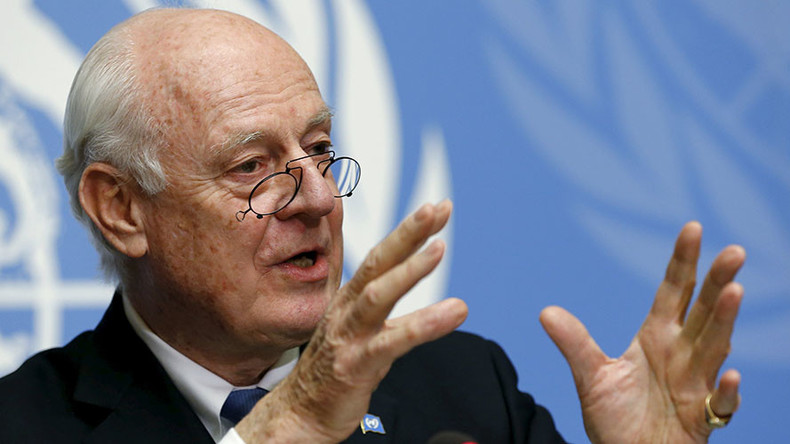 A 12-point paper on the Syrian crisis settlement forwarded by UN special envoy Staffan de Mistura does not mention the fate of President Bashar Assad, according to journalists who have seen the document.
Mistura's "Essential Principles of a Political Solution in Syria" has yet to be approved by all the parties to the peace talks or be accepted as the basis for the next round of talks scheduled for April 9.
"I am expecting and hoping... that the next round of talks will not be focusing on principles again – we have had enough of that – there are many valid points there, but we have to start focusing on the political process," the UN envoy told journalists.
The paper, summarizing the negotiations' results so far, calls for all "parties" to respect "the sovereignty, independence, unity and territorial integrity of Syria," reports Sputnik, which has seen the document. It also states that Syria should be recognized as "a democratic, multiconfessional" state.
One of the 12 proposals outlined calls for the armed groups supporting the peace process to become part of the country's "unified national army."
"The state and its reformed institutions will exercise the exclusive right of controlling weapons of war," it also says, according to Sputnik.
The paper allegedly also contains a call to "prevent terrorist groups from being supplied with weapons, money, training, shelter or intelligence and to refrain from inciting acts of terrorism" in accordance with the UNSC resolutions.
It also stipulates that foreign fighters can play no role in Syria.
The document is described as taking into account suggestions made by the Syrian government and the opposition's "Riyadh group" and "Moscow-Cairo group."
The Syria talks are taking place amid a ceasefire sponsored by Moscow and Washington that came into force in February, leading to a sharp reduction in hostilities over the past two weeks.
The truce has saved 3,000 lives, De Mistura told journalists on Monday.
The ceasefire was implemented in compliance with the Joint Statement advanced by the Russian Federation and United States, which are co-chairs of the ISSG (the International Syrian Support Group). The Islamic State (IS, formerly ISIS/ISIL) and Al-Nusra Front terrorist groups, as well as other parties that rejected the agreement, are not subject to the ceasefire.
The civil war in Syria broke out in March of 2011, and has claimed over 250,000 lives, according to UN estimates.