Only alternative to Syria peace talks is 'even worse war' – de Mistura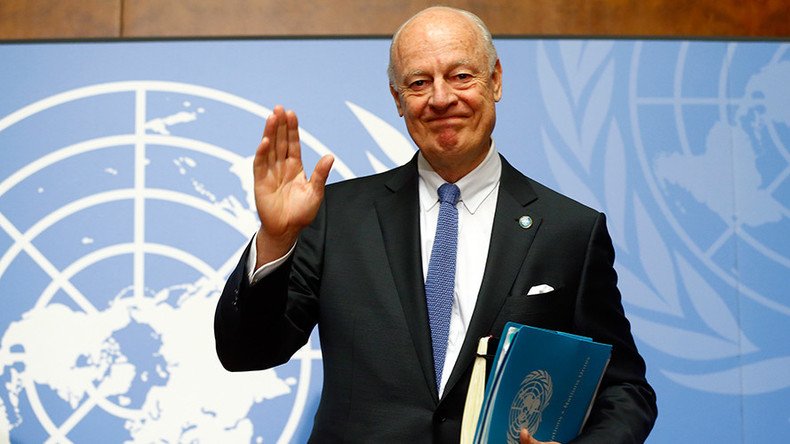 The intra-Syrian peace talks that resumed on Monday are a "moment of truth," while "the only Plan B available is a return to war," the United Nations special envoy for Syria Staffan de Mistura has said.
Speaking to reporters moments before opening the first of the three rounds of peace talks in Geneva on Monday, de Mistura warned that if the sides show no willingness to cooperate on finding a way out of the conflict, the peace-making efforts will be scrapped.
"We will bring the issue back to those who have influence, and that is the Russian Federation, the USA – co-chairs of the ISSG – and to the [UN] Security Council," he stressed.
If the talks falter it may lead to a new outbreak of hostilities, he said. "As far as I know, the only 'Plan B' available is a return to war. And to an even worse war than we had so far."
The negotiations are taking place amid the ceasefire sponsored by Moscow and Washington, which came into force on February 27 and has led to a sharp reduction in hostilities over the past two weeks. In the recent weeks humanitarian aid deliveries to Syrian cities have resumed, de Mistura reported last week.
The ceasefire was implemented in compliance with the Joint Statement of the United States and the Russian Federation, acting as co-chairs of the ISSG (the International Syrian Support Group). The terrorist groups Islamic State (IS, formerly ISIS/ISIL) and Al-Nusra Front, as well as others that rejected negotiations, are not subject to the ceasefire.
The talks are set to be held between March 14 and 24 in Geneva, and are aimed at taking Syria out of the five-year civil war that has left at least 250,000 people dead and more than 11 million displaced.
You can share this story on social media: