87 million children under 7 spent entire lives in conflict – UNICEF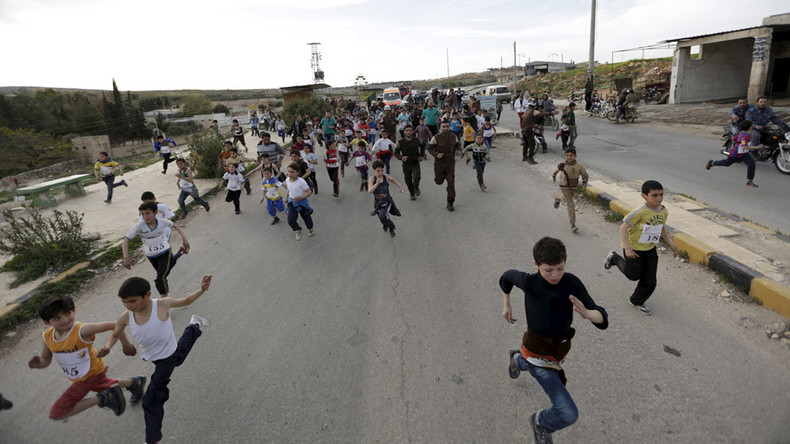 An alarming 87 million children around the world have reached the age of 7 without a day of peace in their lives. Life in conflict zones has serious implications for mental health and brain development, traumatizing the children from infancy, UNICEF said in a report.
UNICEF statistics also reveal that one in 11 children before the age of six spend their most critical developmental period under the specter of constant violence.
"In addition to the immediate physical threats that children in crises face, they are also at risk of deep-rooted emotional scars," Pia Britto, UNICEF Chief of Early Child Development, says.
The root cause is the irreversible damage done to the brain. Before the age of seven, child brains are known to activate more than 1,000 brain cells – or neurons. These neurons are capable of firing off thousands of times per second, connecting to thousands of others. Extreme trauma caused by constant exposure to violence is very hazardous to the child's cognitive, psychological and social development, the authors explain.
Healthy brain development depends also largely on receiving the full benefits of maternal care, which includes breastfeeding and psychological stimulation of the infant.
Lastly, the child needs fun and play if they're going to grow up to be a mentally healthy adult. UNICEF has done plenty with regard to providing child-friendly environments to over 800,000 children in conflict through its programs in the past year.
"Conflict robs children of their safety, family and friends, play and routine. Yet these are all elements of childhood that give children the best possible chance of developing fully and learning effectively, enabling them to contribute to their economies and societies, and building strong and safe communities when they reach adulthood," Britto adds.
UNICEF believes more must be done in the way of investment in child development and protection. This normally includes everything from education given to caregivers through to the provision of various services, as well as learning and socialization programs for kids. It's a complex cross-sector initiative.
The unsettling statistics come barely a week after another report by the UN agency, discussing Syria. According to its authors, a staggering 80 percent of the country's children (8.4 million) have faced the trauma of armed conflict.
One in three Syrian children – 3.7 million – have been born since the eruption of the conflict five years ago and "their lives are shaped by violence, fear and displacement," UNICEF wrote.