Over 500 Yemeni children killed during 6 months of Saudi airstrikes – UNICEF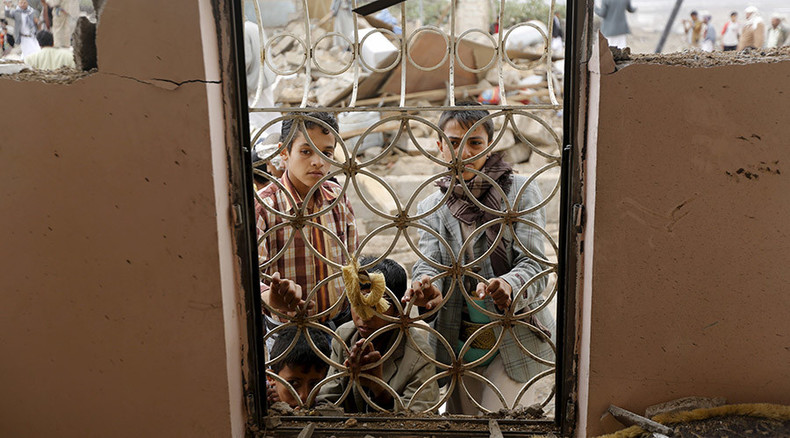 Half a year of violence in Yemen has led to the deaths of 505 children, and a further 702 being injured, the UN children's agency UNICEF said, adding that 1.7 million youths are at risk of malnutrition amid the humanitarian crisis which the country is suffering.
Since March, Saudi Arabia and its allies have been carrying out airstrikes against the Houthi rebels in an attempt to restore ousted president Abd Rabbuh Mansur Hadi to power. Six months of violence have left at least 505 children dead and702 injured.
With UNICEF projecting that some 1.2 million children under five in Yemen will have suffered from "moderate" acute malnutrition across 2015, a further 530,000 children are at risk of "severe" malnutrition – a five time increase compared to data from before the conflict.
The dire situation is caused by the fighting disrupting imports to Yemen, which only produces 10 percent of the food required by the population. In total around 10 million children, composing 80 percent of the country's under-18 population, are in need of urgent humanitarian assistance, the agency said on Friday.
"With every day that passes, children see their hopes and dreams for the future shattered. Their homes, schools and communities are being destroyed, and their own lives are increasingly threatened by disease and malnutrition," said Julien Harneis, the UNICEF representative in Yemen.
However, UNICEF spokesman Christophe Boulierac stressed that "these are conservative figures."
A sharp increase in children being recruited as fighters by the warring parties in Yemen has also been recorded, with 606 verified cases so far this year compared to 156 in 2014. "Children in Yemen are being used by armed groups, manning checkpoints or carrying arms," Boulierac was cited by AFP as saying.
However, the dire humanitarian crisis is proving more dangerous for the kids than then the actual bombings and street fights, he stressed.
"We know that more children (could) die from preventable disease than from bullets and bombs," Boulierac said.
The education of over 1.8 million children has been interrupted by school closures, with 41 attacks on schools verified since the start of the conflict, UNICEF said.
At least 2,355 civilians have been killed in Yemen over the last six month, with 1.4 million people fleeing their homes, according to UN estimates.
Meanwhile, a Dutch draft resolution calling for a UN investigation into human rights abuses in the Yemeni conflict was withdrawn earlier this week due to pressure from Saudi Arabia. Instead of the Dutch proposal for a full UN inquiry into violations in the country since September 2014, a watered-down Saudi-backed resolution, only supporting a domestic probe, was adopted on Friday.
LISTEN MORE: