World capitals wrap landmarks in Belgian tricolor to mourn with Brussels (PHOTOS, VIDEO)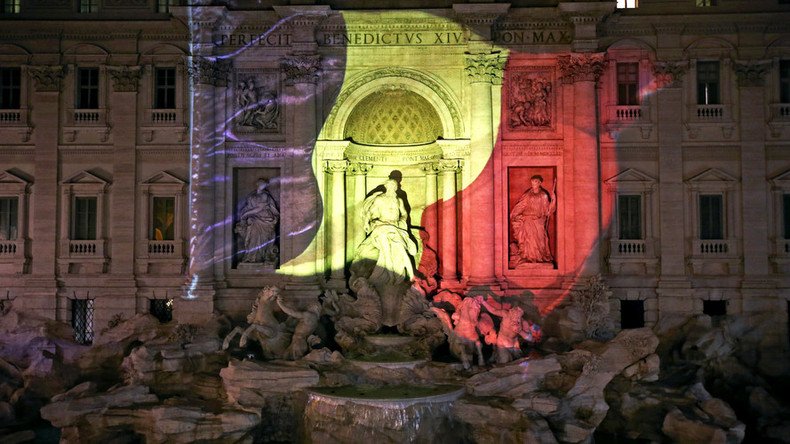 As night fell Tuesday, the lights of the world's major landmarks began to blaze in the colors of the Belgian flag to show solidarity with Brussels and pay tribute to the victims of terror attacks that left 31 dead and 250 wounded.
Follow RT's LIVE UPDATES on Brussels bombings

From the Belgium capital to the skyscrapers of Dubai, the world is in mourning for the victims of the shocking twin blasts that rocked Brussels' airport and metro on Tuesday morning.
Paris, which itself is still healing from Islamic State (IS, formerly ISIS/ISIL) attacks on November 13 of last year, was the first to light up in support for its neighbor. The Eiffel tower was illuminated in the colors of the Belgian flag, kicking off a wave of unity against terror across the world.
Berlin followed suit, lighting up its landmark Brandenburg gate in the heart of the German capital in lights of the Belgian tricolor.
Amsterdam's Royal Palace has joined the tribute, changing the lights on its facade in memory of the victims of the Brussels attacks.
In Rome, the Trevi fountain was lit up in black, yellow and red, turning the elaborate tourist landmark into a makeshift memorial.
Elsewhere in Rome, Campidoglio's Senate Palace, just a 15-minute walk from the Trevi fountain, is projecting the tricolor on its façade.
The tribute has reached far beyond the major landmarks of Europe's capitals, with the UK's remote city of Sunderland in England's northeast bringing lights of support to the walls of its ancient-looking Penshaw Monument.
The night of solidarity with Brussels has also bridged faiths, with England's Sikh community coloring the cupola of its temple in Smethwick, near Birmingham.
The Serbian capital, Belgrade, has also extended its support, with lights of the Belgian flag beaming on the face of its city hall.
Athens' Parthenon, the world's best-known Greek landmark, has also turned black, yellow and red in memory of the victims and support of Belgium.
As the world mourns those killed in the string of explosions in Brussels, the United Arab Emirates garbed the world's tallest building in the Belgian colors.
As darkness descended on the US' east coast, New York changed the lights on the World Trade Center in lower Manhattan.
The governor of New York State, Andrew Cuomo, has directed that lights of the WTC's 408-foot spire glow in the colors of the Belgian flag tonight.
"New York stands shoulder to shoulder with the people of Belgium and the rest of the world in rejecting the hate and extremism behind this violence," Governor Cuomo said. "We join the world in mourning the victims of these attacks and remain committed to helping create a more just and peaceful world."
In the meantime, hundreds of people bringing flowers and candles have spontaneously flocked to Bourse Square in central Brussels.
READ MORE: Solidarity amid terror & grief: Brussels square filled with heartwarming messages, rooms offered
You can share this story on social media: