Solidarity amid terror & grief: Brussels square filled with heartwarming messages, rooms offered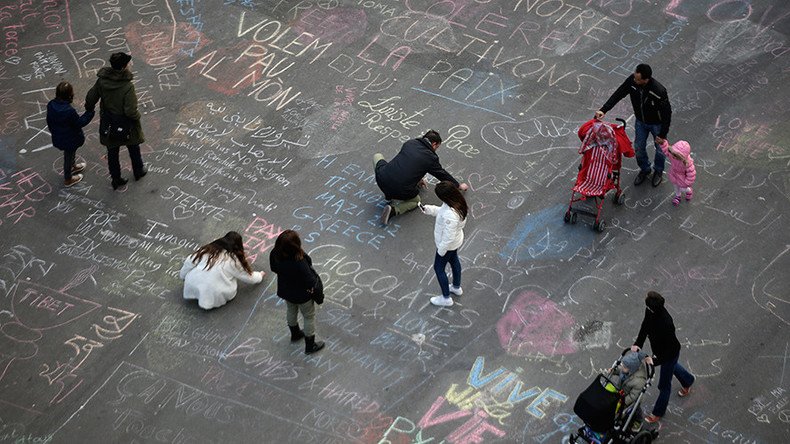 In the wake of the terrorist attacks in Brussels, citizens have been doing their best to come to terms with the harrowing events – writing messages of solidarity in the city's central square and offering a room or lift to those in need following the deadly assaults.
The Bourse Square in the center of Brussels by the Stock Exchange is usually filled with people on their way to and from work, or simply enjoying a stroll round the capital.
However, following the devastating terror attacks, which struck the city's airport and a metro station on Tuesday morning, killing over 30 and injuring over 200, it has been turned into a giant "noticeboard" where the public can leave messages of solidarity.
Meanwhile, Plantu, a celebrated cartoonist from the French newspaper Le Monde, drew a figure which has been widely circulated on social media. It shows a figure in the French tricolor hugging another in the red, yellow and black flag of Belgium, with both characters shedding a tear.
Various artists – from professionals to amateurs, from children to adults – drew images displaying solidarity with the victims.Among the pictures shared online were the images of a crying Tintin from the comics series by Belgian cartoonist Hergé, and of Manneken Pis urinating on a jihadist with a Kalashnikov rifle.
French Prime Minister Manuel Valls, who said following an emergency meeting at the Elysees Palace that Europe was "at war," also tweeted the image.
There were also other designs created to show the public's solidarity following the attacks.
Meanwhile, as was the case following the deadly Paris attacks on November 13, which killed 130 people, the Brussels public have been offering spare rooms and lifts to those affected by the attacks.
Flights in and out of the Belgian capital have been canceled and the city has been put on lockdown with the government urging people to stay put, which has subsequently left a number of visitors to Brussels stranded.
Meanwhile, for those just needing a lift, a new Twitter account "Brussels Lift" was created to help connect "people who need to travel with drivers who have empty seats," Reuters reported.
Other people were using the hashtag #BrusselsLift to ask for rides and offer car spaces.
You can share this story on social media: