'Hard to live in Mosul': 'American ISIS fighter' entered Iraq via Turkey & Syria
Published time: 18 Mar, 2016 19:29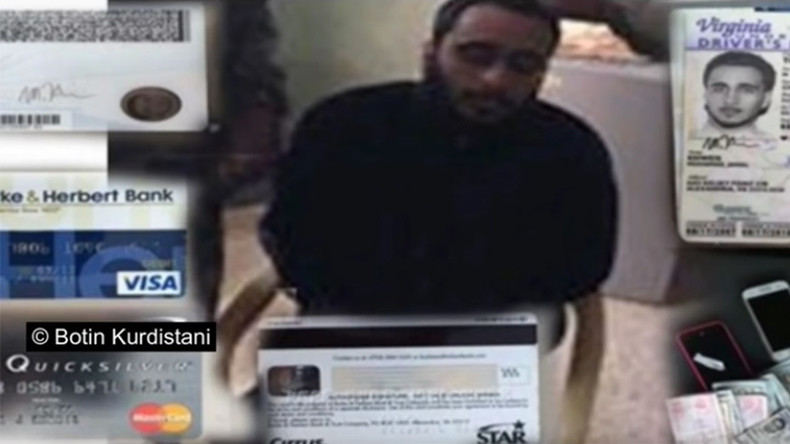 An ISIS fighter believed to be US-born says he wanted to return home after finding it "very hard" to live in Mosul, the terror group's stronghold. He told Kurdistan24 TV he was led to the area by someone who vowed to take him "near Turkey's border."
Mohamad Jamal Khweis, a 26-year-old US citizen from Virginia as described by the channel, surrendered himself to Kurdish Peshmerga forces near the city of Sinjar in northern Iraq on Monday, after living in Mosul for "about a month." The city is under the control of Islamic State (IS, formerly ISIS/ISIL).
In early 2016, Khewis traveled to Turkey via London and Amsterdam, where he met an Iraqi girl from Mosul. The two decided to travel to the IS stronghold together.
"First, we took a bus from Istanbul to Gaziantep...from there, a driver picked us up and took us to the border and then [we went] from Syria to Iraq," he told Kurdistan 24 news channel. They arrived in Mosul on January 16.
But before he even arrived in Mosul, Khewis realized he had made a "bad decision."
"...At the time I made the decision, I was not thinking straight. On the way there I regretted, and I wanted to go back home after things didn't work out and saw myself living in such an environment," Khweis said, adding that Mosul is "not like Western countries. It is very strict and no smoking there."
He went on to describe the indoctrination which began when he arrived.
"There was an imam who taught us the sharia and the religion," he said. "I didn't complete the whole sharia. I didn't agree with their ideology and that's when I wanted to escape.
"Our daily life was prayer, eating and learning about the religion for eight hours," Khweis added.
"I found it very, very hard to live there. I decided to return back home [US]," he continued. "I found someone who could take me back to Turkey. First he told me that he will [sic] take me, but then he said it will be difficult to take me all the way to Turkey. [Later] he told me he will take me near Turkey's border."
Khweis shared his conclusion with the American people, stating: "My message to the American people is that life in Mosul is really very bad. The people who control Mosul don't represent a religion. Daesh [Arabic pejorative term for IS] does not represent a religion. I don't see them as good Muslims."
Meanwhile, US officials are eager to question Khewis, as he is capable of providing intelligence about how IS really works, current and former US counter-terrorism officials told NBC News.
"He would be an intelligence gold mine… He could provide a window into the ISIS command structure," Seamus Hughes, a former US National Counterterrorism Center official, told the channel. He said Khweis could be the first IS fighter coming from the US to have surrendered in the field.