Kremlin burning? Not quite: Pipe leak creates stir in Moscow (PHOTOS, VIDEO)
Published time: 17 Mar, 2016 20:21
Edited time: 17 Mar, 2016 21:00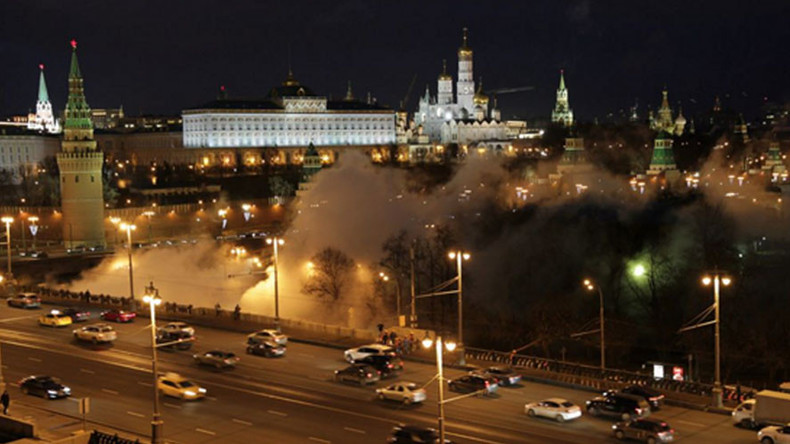 "The Kremlin is burning!" "Explosion in the center of Moscow!" "Tram lines on fire!" "Trolleybus explosion!" – social media users were quite alarmed as massive clouds of "smoke" engulfed an embankment near the Kremlin.
In reality, a hot water pipeline broke on Sofiyskaya Embankment right Thursday night with floods of boiling-hot water flushing the street and clouds of vapor hazing neighboring areas.
The clouds were actually so dense that the Kremlin could not be seen from the nearby Patriarch's bridge, witnesses told Russian media.
The break caused huge traffic jams in the center of the Russian capital as it took place right during the rush hour.
In the meantime, the image of the Kremlin surrounded by what seemed to be clouds of heavy smoke illuminated by red flashes from fire or explosion provoked a wave of panic in social networks.
"Kremlin is burning!" wrote one user in twitter commenting on the image showing dense clouds of vapor against the background of the Kremlin buildings.
Some twitter users assumed that a huge fire broke out in the center of Moscow with others claiming that the smoke was caused by explosion.
Later some users suggested that a tram line could be on fire or the incident may be caused by a trolleybus explosion.
The Kremlin itself did not appear affected by the break or its consequences. The incident did not disrupt the work of different services on the territory, one source told RIA Novosti.