US student sentenced to 15 years hard labor in North Korea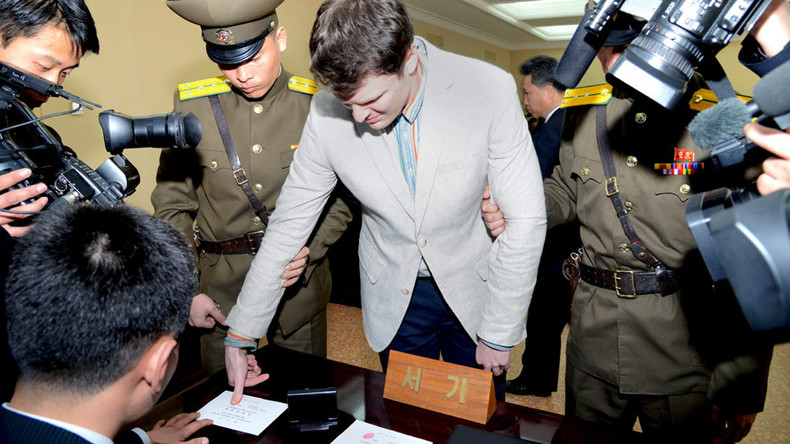 Being forced to publicly confess to his crime of stealing a propaganda poster, in a teary apology, was not enough to save American student Otto Warmbier from a lengthy prison sentence in North Korea.
The secretive state's Supreme Court held a one-hour trial in Pyongyang before sentencing the 21-year-old from Ohio to 15 years of hard labor for committing "hostile acts."
In late February, Warmbier admitted trying to steal the propaganda banner from a hotel. North Korean authorities paraded him in front of cameras and forced him to confess to the prank. Warmbier said he had been "foolish" in his actions.
He admitted to being instructed by a member of the Friendship United Methodist Church in Ohio to steal a souvenir and bring it back to the US as a "trophy."
Warmbier traveled to North Korea with a tour group for five days and was staying at the Yanggakdo International Hotel. He had been up drinking all night prior to his return flight on January and was arrested as he attempted to leave the country, the Independent reported.
Swedish diplomats represented American interests at Wednesday's trial, as the US has no diplomatic relations with North Korea.
READ MORE: N. Korea arrests US student for 'hostile act'
Washington has urged Pyongyang to pardon Warmbier and release him, according to White House spokesman Josh Earnest.
"The allegations for which this individual was arrested and imprisoned would not give rise to arrest or imprisonment in the United States, or just about any country in the world," Earnest said. "It is increasingly clear the North Korean government seeks to use these US citizens as pawns for a political agenda."
The harsh sentence has widely been seen as a clear message to the US, which regularly carries out military training exercises with its ally South Korea as tensions with the North persist.
In March, the UN imposed sanctions on North Korea as punishment for continuous nuclear tests and missile launches.
North Korea has detained Americans in the past and used them as bargaining chips. Most recently, Kenneth Bae was sentenced to 15 years of hard labor but was released after 18 months.
American authorities have repeatedly warned citizens not to travel to North Korea, though tourists are not outright banned from visiting.